Fall in Ocean View
4 Seasons Series
Ocean View Delaware dates back to the early 1700s and has many Gothic Victorian Farmhouses within its limits and surrounds.  This chart depicts a common scene in the Fall.  
Gentle Art colors used are Oatmeal (2 skeins), Cornhusk, Acorn, Mulberry, Fragrant Cloves, Forest Glade, Sunflower, Bittersweet, Sable, and DMC 841.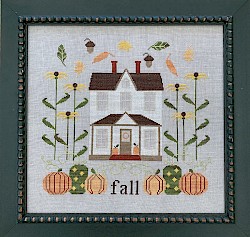 Click for full-size image
Fabric & Threads

36 count
Wood Smoke
Lakeside Linens
Gentle Arts
Stitches

185 wide x 169 high
Cross Stitch
Design Size

10.3" x 9.5"
Suggested Retail

$18.00
---