News
The latest news from Samplers Revisted.
Quaker Blue Whale is here!
May 29, 2023 - 7:53am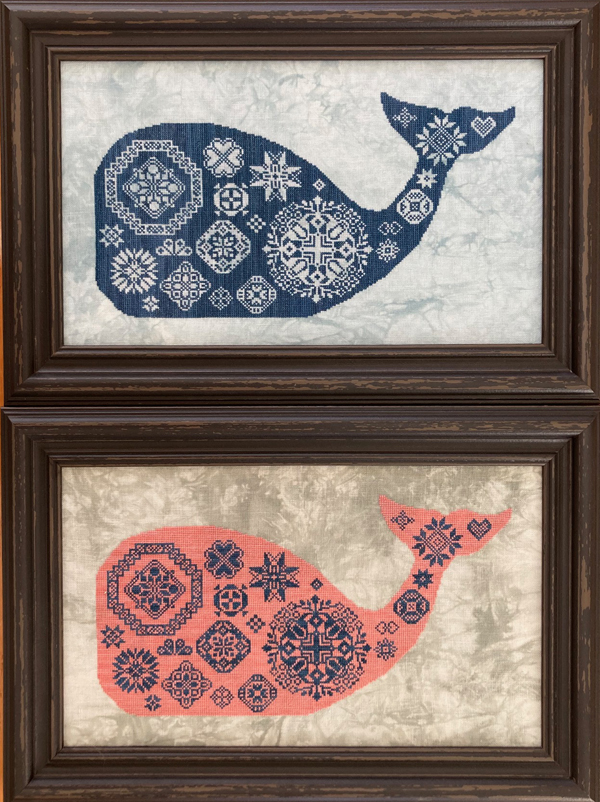 New this year from Samplers Revisited another Quaker pattern featuring a sea creature.  Stitched in one color with the Quaker motifs left blank, or in two colors of your choosing.  Enjoy!
Santa Visits Maine in time for Christmas 2022
October 21, 2022 - 8:49am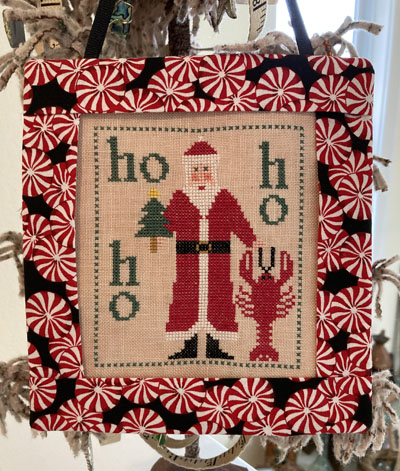 Just in time to stitch for Christmas this year, Santa Visits Maine!  Check out the whole Christmas Ornament collection and the instructions on this website on how to make your own "Tuck" Frames.
Happy Stitching,
Patty
5 Brand New Titles for Expo!
August 7, 2022 - 2:00pm
Please look at Stitching Pretty if you are shopping the Needlework Expo for Samplers Revisited charts.  There will be 5 brand new titles for Expo!  Santa Visitis South Carolina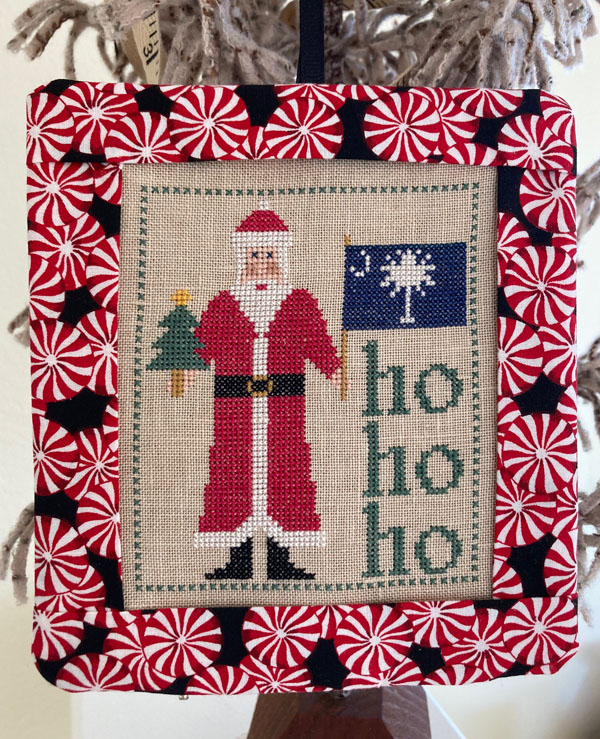 Cafe & Caffeine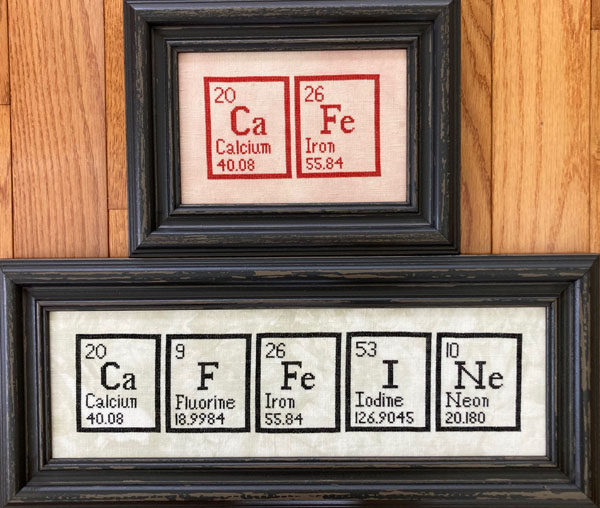 Quaker Village Sampler
Thankful and Grateful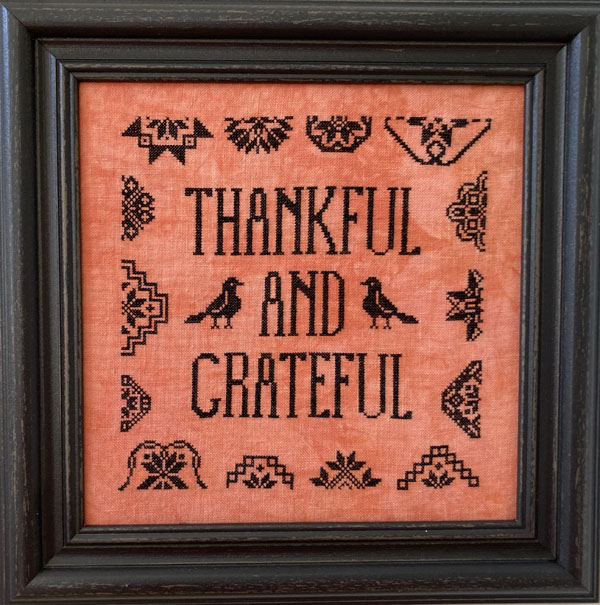 Rebecca E Craig, 1844 a Delaware sampler from Dover Hundred in Kent County, DE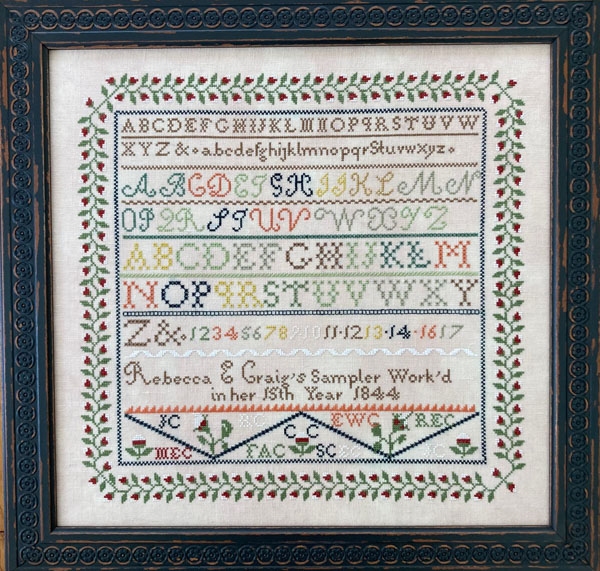 Two new Charts for early 2022
February 18, 2022 - 8:53am
I continue with my love of Quaker motifs and Pumpkins in my latest chart Pumpkin Quaker Sampler.  Using many large medalians in Fall Colors, this large sampler is fun to stitch!  Done all in cross stitch, it can be stitched on any fabric you want.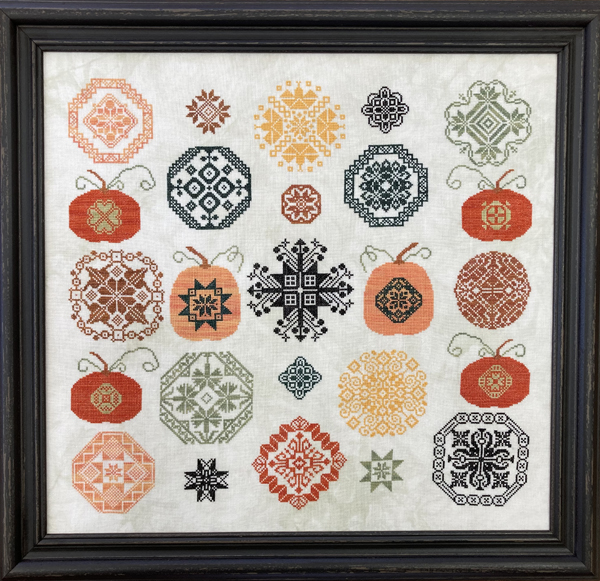 The second new sampler is an actual Delaware reproduction and also an adaptation if you want to sttich it not to look exactly like the original.
Elizabeth Stockley c. 1821 was stitched by a seven year old girl from Georgetown, Sussex County, Delaware about a 30 minute drive from my house!  The chart pack contains directions for a faithful copy of the original and an updated version using Smyrna Cross stitches only for the larger specialty stitches insted of Rice Stitch, Algerian Eye Stitch, and Queen Stitch.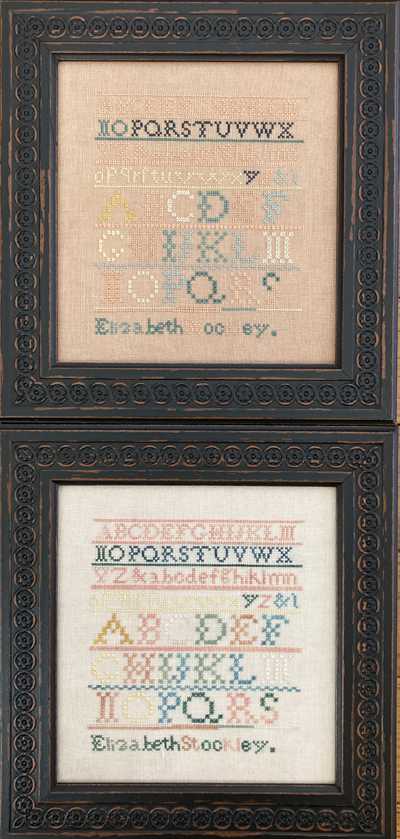 Please tell your local shop or online store to contact my distributor Stitching Pretty 301-604-0808 or me to order these charts for you!
Needlework Expo Coming August 28 to 30
August 12, 2021 - 10:38am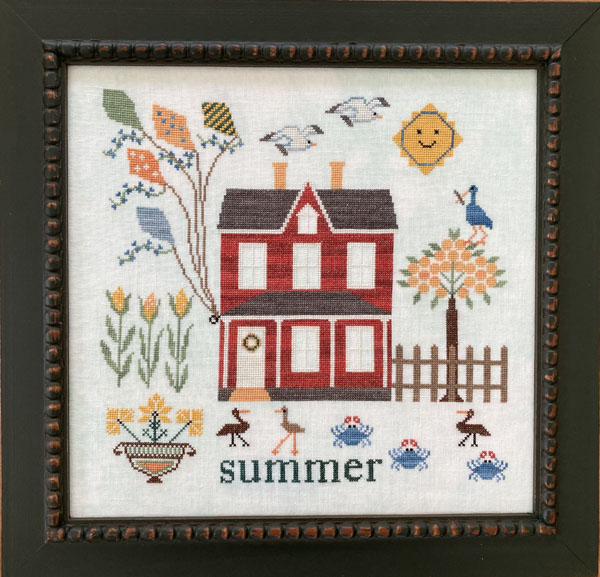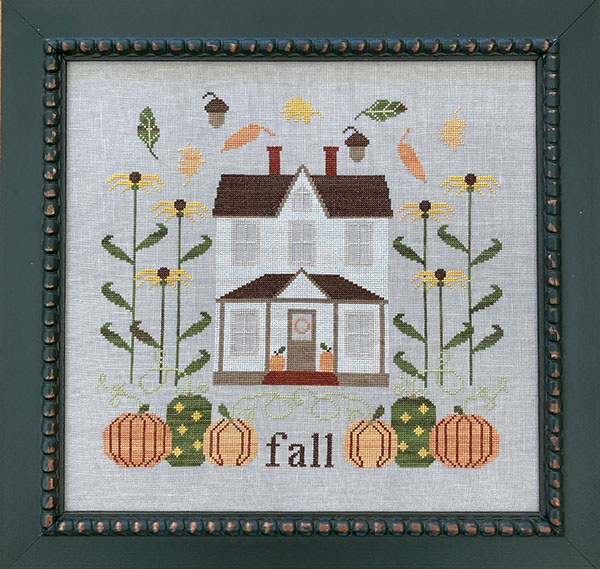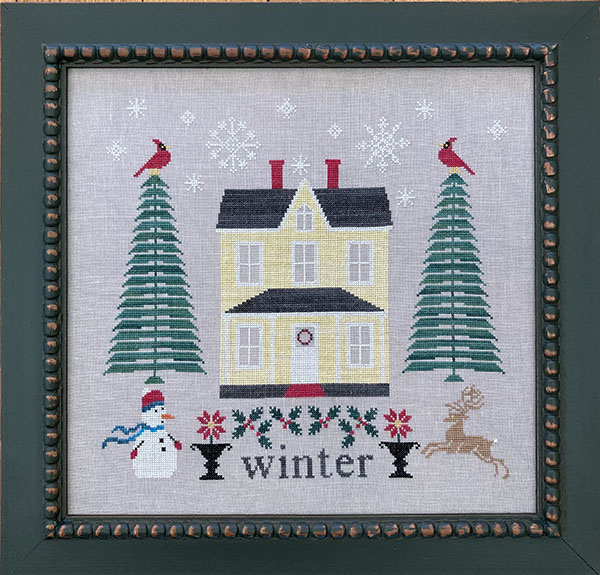 My new series of the 4 Seasons Of Ocean View will be released in this show that will be a Virtual Wholesale Market for the Cross Stitch trade.  Please contact your local needlework shop or online store and pre order Spring in Ocean View, Summer in Ocean View, Fall in Ocean View and/or Winter in Ocean View!  The other charts that will be featured under "Stitching Pretty" (my distributor) are all the other new ones in past posts since early Spring 2021.  More info on instagram to come!
Two new Charts now ready for ordering!
June 26, 2021 - 8:15am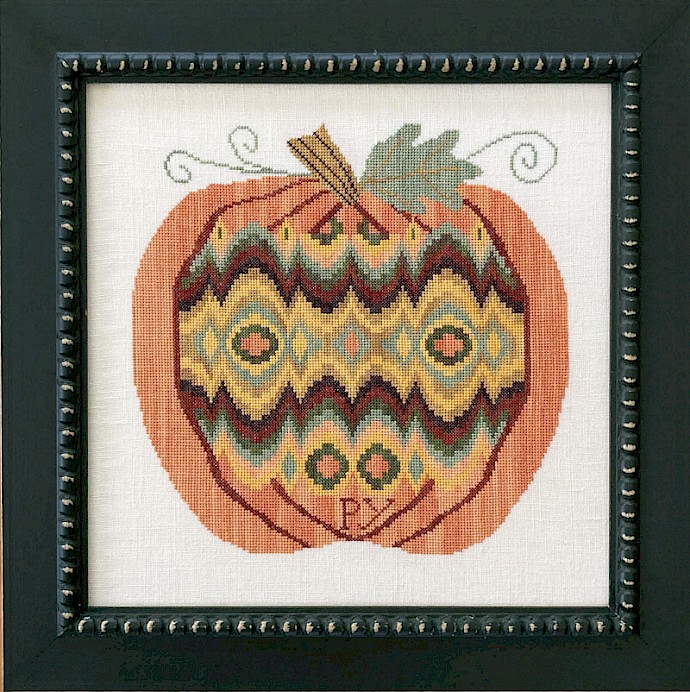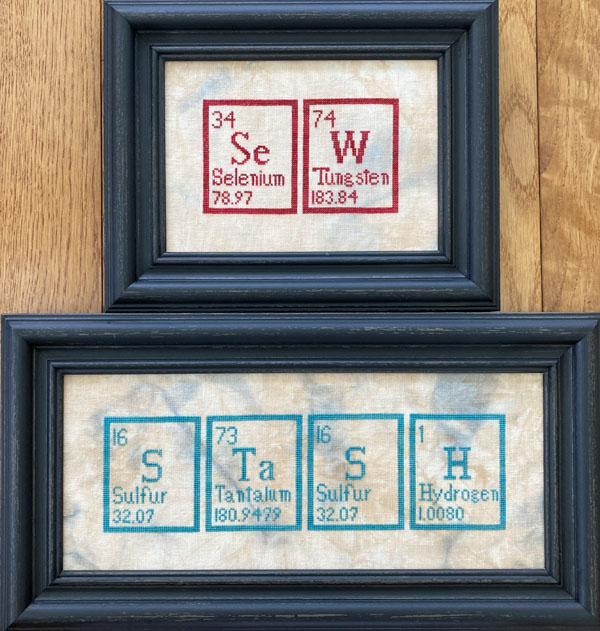 Samplers Revisited has been busy working on the 6th Great Pumpkin, Great Pumpkin Bargello and another Periodic Table chart Sew & Stash.  Check out their details under New Charts.  Retail shops can order them from my distributor Stitching Pretty Presents and those of you that live near my 3 local shops can pick them up in Bethany Beach, DE, Ocean City, MD, and Catonsville, MD.  The Stitching Post in Catonsville near Baltimore has the models for you to enjoy in person.  Now there are 6 Pumpkins for you to stitch and a companion piece for Yarn and Stitch for you to mix and match with.  Happy stitching,  Patty 
Yarn & Stitch are ready to ship!
April 13, 2021 - 7:54am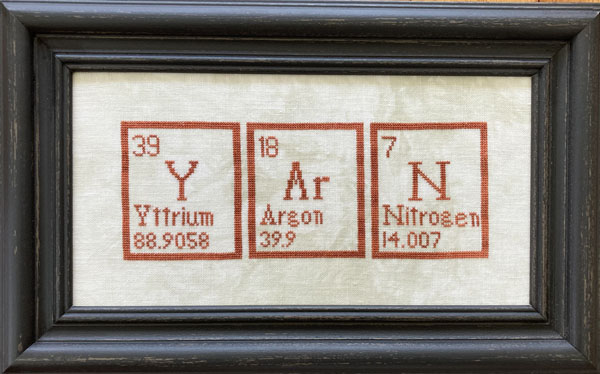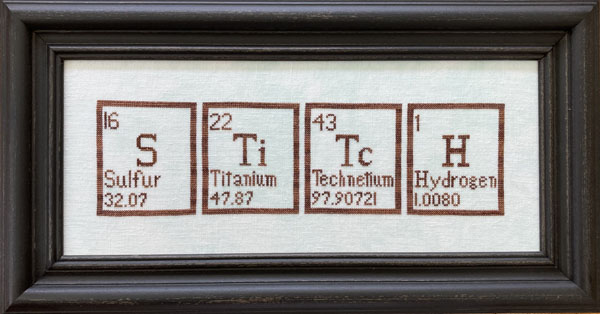 Just off the Press!  The latest in the Periodic Table Series!  Yarn & Stitch!  Two neat charts in one chart pack. What fun to use Chemistry to spell out our favorite things!  As usual, please ask your favorite store to order from Stitching Pretty (see bottom of Home Page for info to give them) or go see the models at Salty Yarns in Ocean City, MD.  You can also pick up charts in Sea Needles in Bethany Beach, DE, Stitching Post in Catonsville, MD and at In Stitches in Alexandria, VA!  Use your favorite colors of floss and fabric to match your decor.  Would make a great gift for your stitchy friends!  See my color schemes on the chart page.  Look in New Charts.  Happy Stitching!
Great Pumpkin Florentine is here!
April 13, 2021 - 7:26am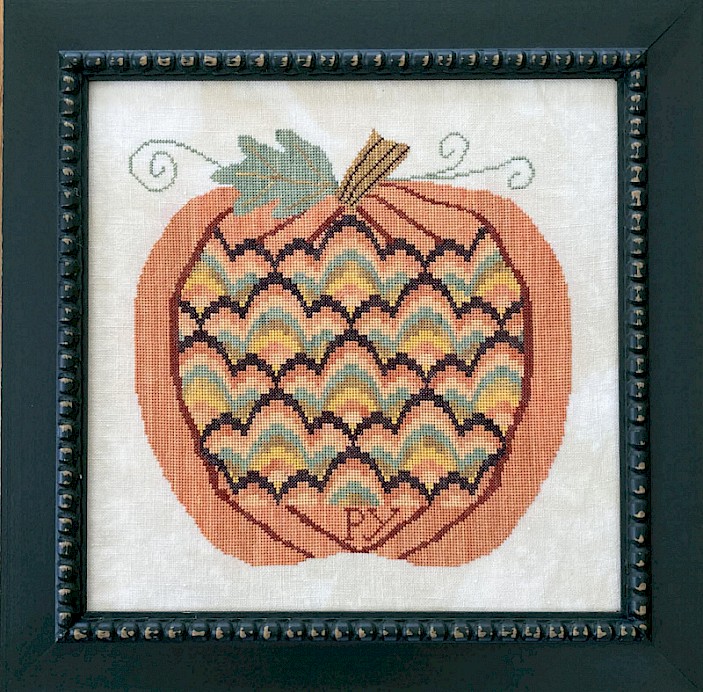 Just Released!  Great Pumpkin Florentine looks like it is stitched in Bargello stitch (Florentine stitch) but it is all cross stitch!
This is the 5th chart in the Great Pumpkin series (Hint, #6 that will complement this one is due out later this year)!  
Check out the Chart section (New Charts) to see all the particulars.
Tell your local shop or online shop to contact www.stitchingpretty.com to orders copies for you.  As usual my four "local" shops will have copies.  Sea Needles in Bethany Beach DE, Salty Yarns in Ocean City MD, Stitching Post in Baltimore MD, and In Stitches in Alexandria VA.  You can call any of these shops to get charts sent to you via snail mail.  If you want to see the model up close and in person, check out In Stitches in Alexandria!
New idea for stitching Bargello Crab!
March 4, 2021 - 12:15pm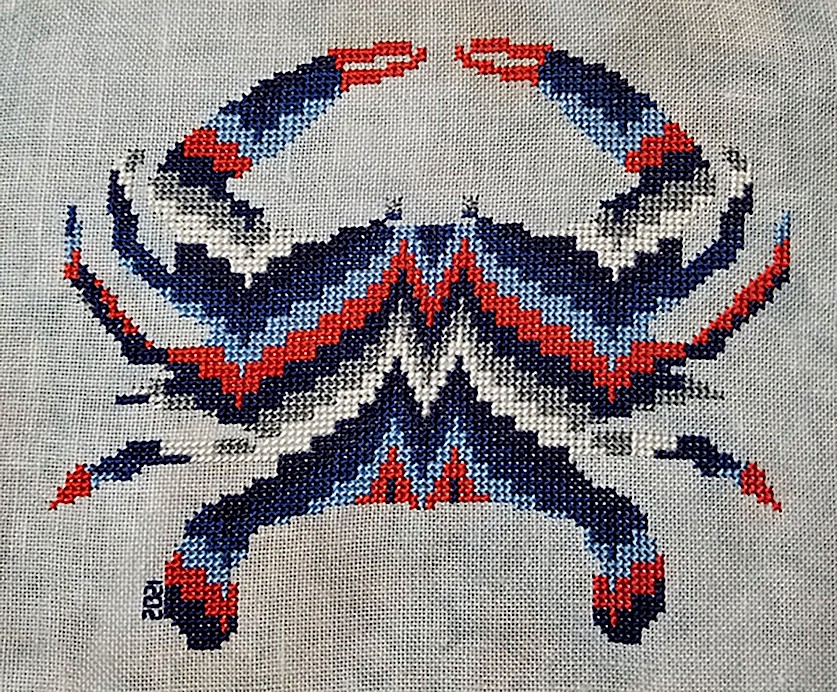 This beautiful rendition of my Bargello Crab was stitched by Marylander Leslie Eldridge and she has kindly shared it with us to copy her idea of colors befitting gifting it to a military friend (or if you like a Patriotic look).  I will publish a key to these new colors on the page where you can find more specifics on Bargello Crab and also in all the charts going out after today they will have an addendum inserted into the chart pack.  What a clever idea!  Leslie used silks and her chosen fabric was 32 count Picture This Plus Feldspar.  Congrats on a great stitch Leslie!
I am currently working on more Periodic Table charts with stitchy themes as well as some more Great Pumpkins, all to be revealed starting later this spring so stay tuned!
Happy stitching,
Patty
New Charts available everywhere!
October 5, 2020 - 8:33am
Samplers Revisited is pleased to report that all 4 of the new Periodic Table charts are at my distributor and are ready to ship to all of your local shops/online retailers.  You just need to ask for them by name!
Also, just this week I have released to everyone and available from my distributor (Stitching Pretty Presents), my latest crab design :  Bargello Crab.  This design features "Fool the Eye Bargello"  and I have made two models with different background colors so you can have some fun with your own rendering.  You use all cross stitches in a pattern that looks like long Bargello stitches at a distance, what fun!  
I hope you are all safe and healthy as this crazy year of 2020 proceeds to wind down.
Keep stitching!  More to come next Spring for Nashville (hint:  if you like this Bargello look, wait until you see what I have done with my Great Pumpkin series)!!!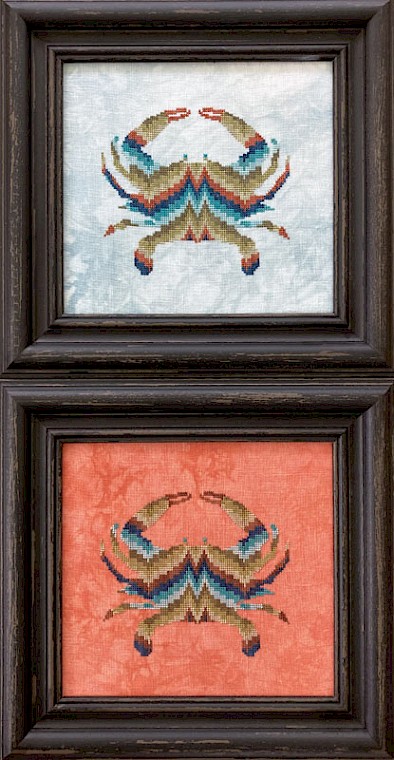 New Designs for your Summer Stitching Pleasure!
June 18, 2020 - 6:25am
I have been busy designing and stitching during quarantine and have come up with 4 new Periodic Table designs for your summer stitching pleasure!
First is Cat & Wag for animal lovers.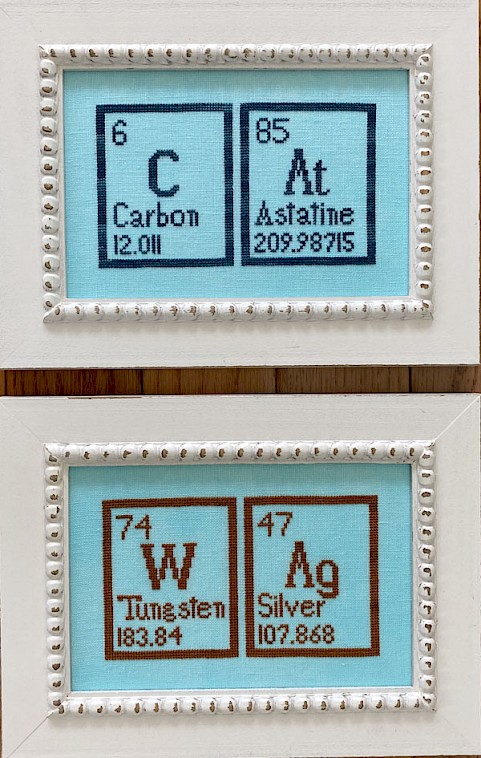 Second is Beach Life for those of us who love the beach.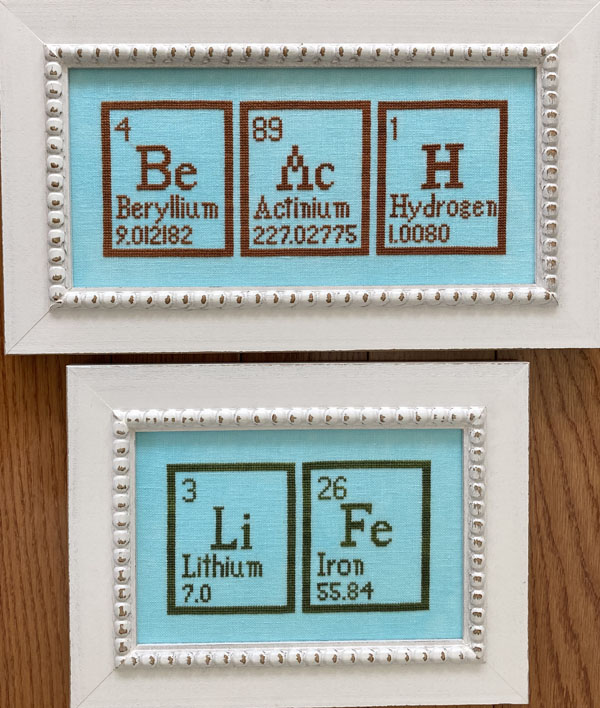 Third is Vino & BYOB, the 7th in the wine series.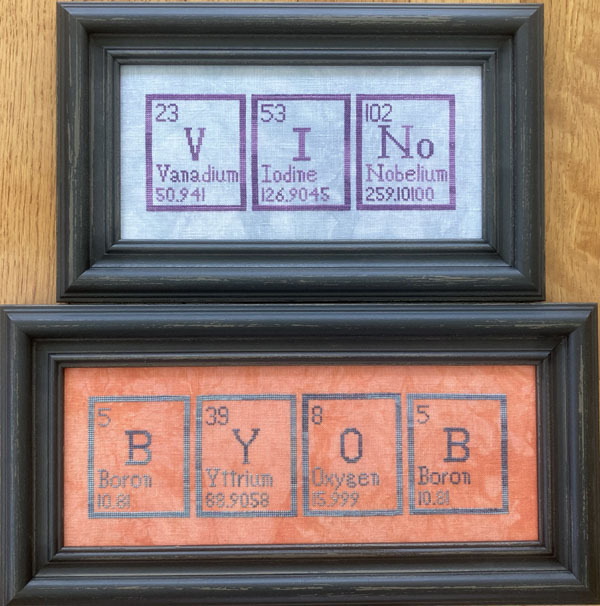 Fourth is Brew & Cheers, the 8th in the wine series.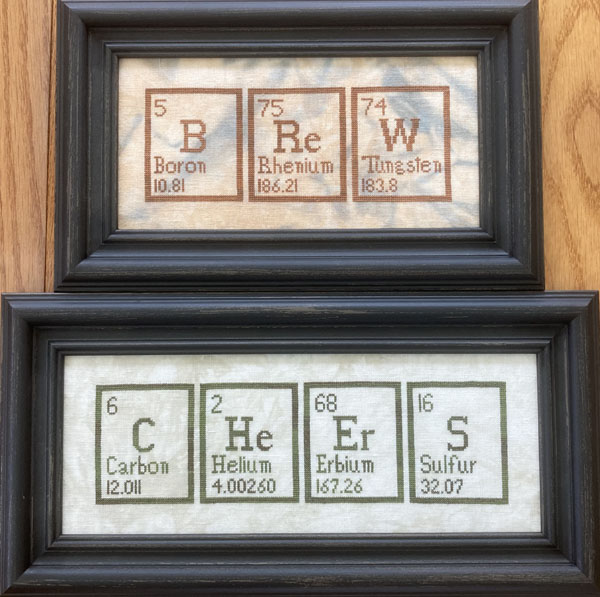 These will be only be available at my local shops untl later this year.  Please call and order from:
Salty Yarns in Ocean City, MD 410-289-4667
Stitching Post in Catonsville, MD 410-788-7760
Sea Needles in Bethany Beach, DE 302-539-0574
New Releases for 2020 Nashville Needlework Market
February 7, 2020 - 12:07pm
Samplers Revisited will be releasing 8 new charts at Nashville on March 6-8th.  All those lucky enough to attend, please visit me in the Stitching Pretty Presents suite 230.  Those of you that would like to stitch one of these charts, please contact your local shop to order.  You can find all the basic information about the charts under "Charts" and then "New".
First is Patriotic Crab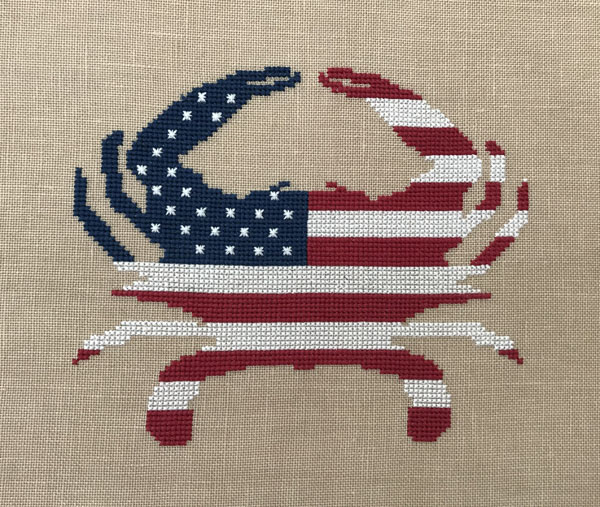 Then Beer and Wine (part of the new Wine Series)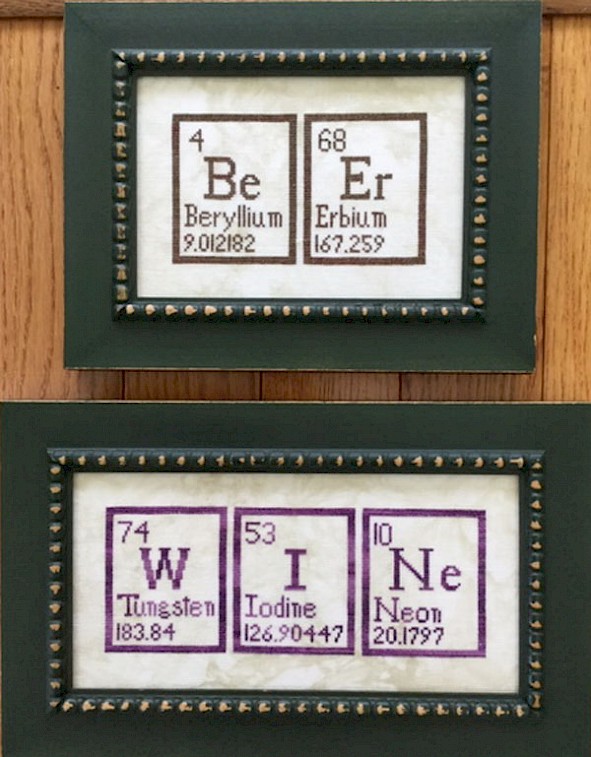 Then another Santa Ornament "Santa Visits America" with a Betsy Ross Flag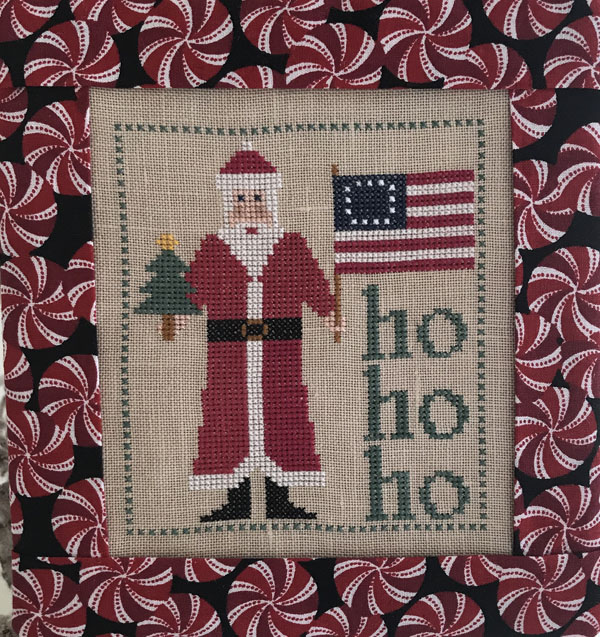 Then a reproduction Sampler, possibly from Pennsylvania, Rachel Lewis 1791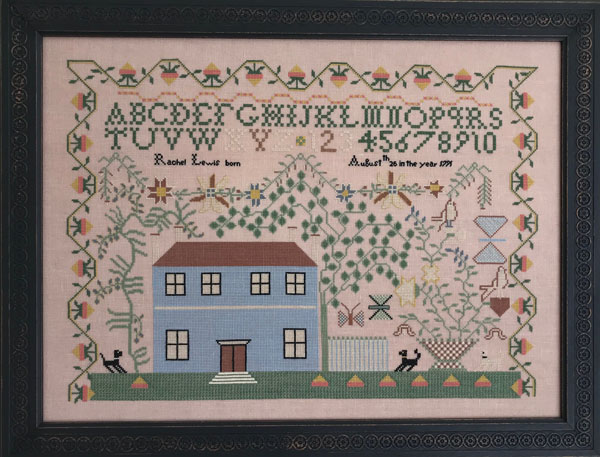 Then Girls Night Out from the new Wine series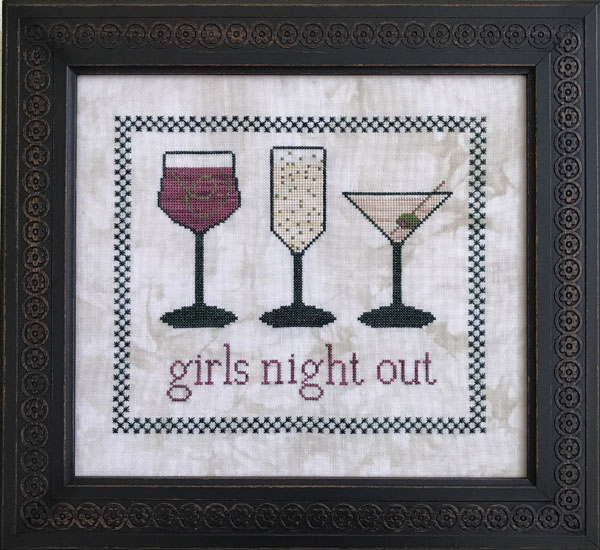 Then Happy Hour from the new wine series (are you getting a pattern here?)

Then Save Water - Drink Wine

and finally Save Water - Drink Beer  (to be fair to the beer drinkers)

I am excited to release all these fun to stitch charts for you to collect and stitch!  I am currently working on more charts that use the Periodic Table like "Beer and Wine".  My late husband was a Chemist and I was a Marine Biologist so it comes naturally.  LOL.  Happy Stitching,   Patty 
New Scottish Reproduction chart - Margaret McLean 1796
July 21, 2018 - 9:37am
Exclusive at In Stitches Needlework in Alexandria, VA until March 2019,  Margaret McLean 1796 is the reproduction of the bottom of an antique sampler.  The top was not in very good shape, and I know a lot of you are tired of stitching alphabets!  Here you get to stitch a red house, an Adam and Eve and some peacocks :)  Contact In Stitches at 703-360-4600 to order or go see their wonderful shop.  www.institchesneedlework.com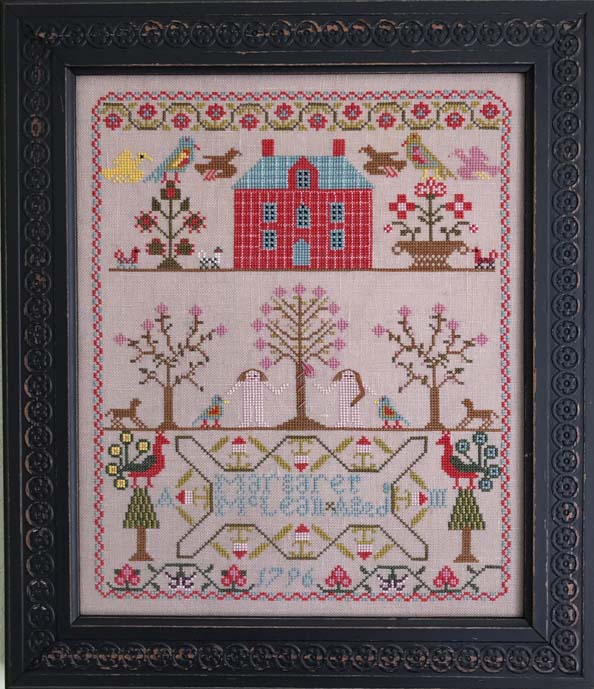 Needlepoint models of Santa Visits Maryland at Salty Yarns, Ocean City, MD and Santa Visits Delaware at Sea Needles, Bethany Beach, DE
March 21, 2018 - 9:43am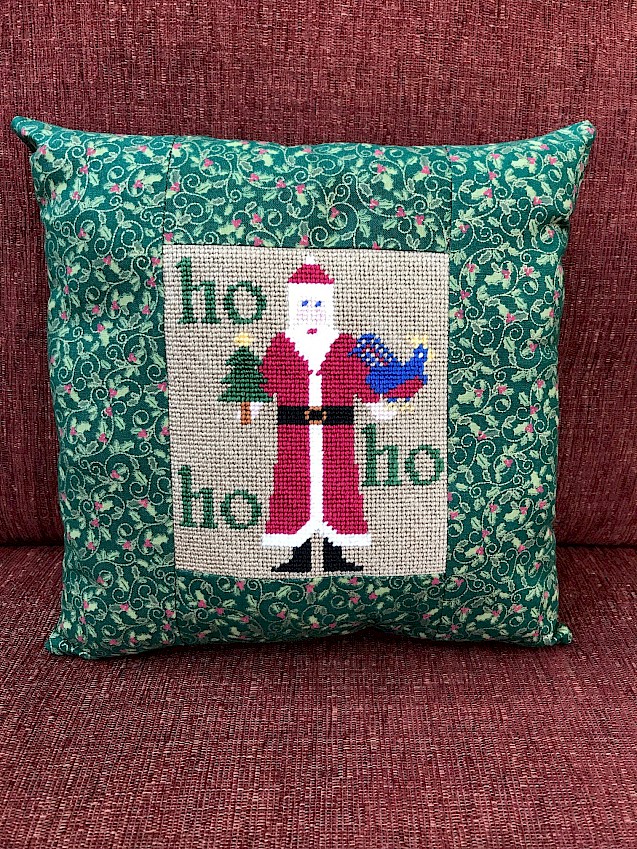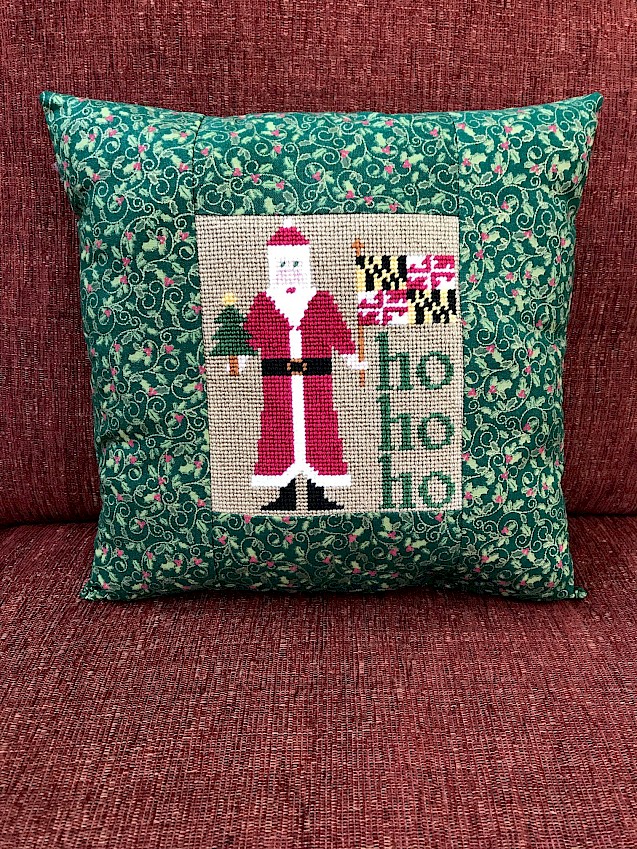 Taking the Santa Visits Maryland and Santa Visits Delaware charts, I needlepointed them on 13 ct mono canvas and made the Santas into pillows.  I used Pearl Cotton and filled in the background with a warm sandy brown color.  Visit the shops to see them in person.
In the meantime, I have been learning how to paint Needlepoint Canvases for those of you that want handpainted and not charted images.  Check out the Maryland Flag canvas at Sea Needles, Salty Yarns or the Stitching Post.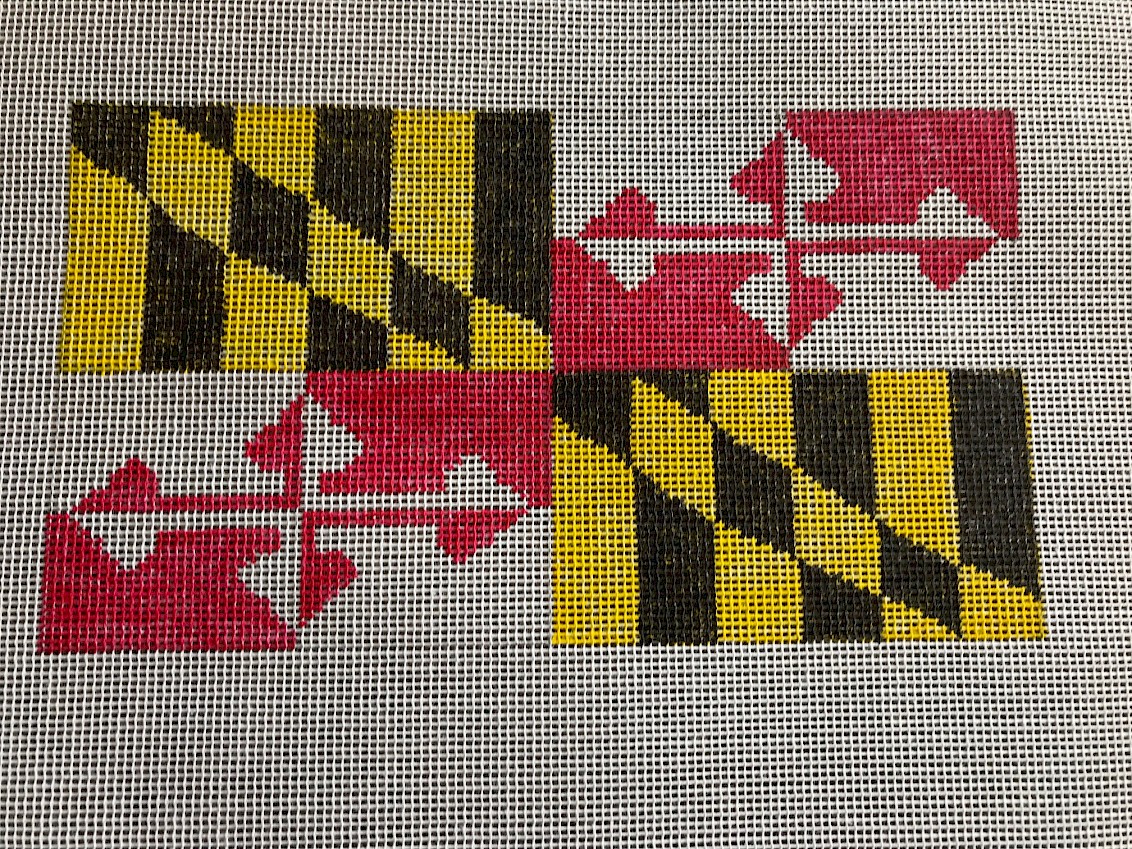 Newest models on display at In Stitches (Alexandria, VA) and Stitching Post (Catonsville, MD)
March 21, 2018 - 9:17am
For those of you visiting the Woodlawn Needlework Show, stop by In Stitches (see info in Shops on this website) to check out Priscilla Talley, Lydia Wharton and Fianna's Show towel (with smalls) (see below)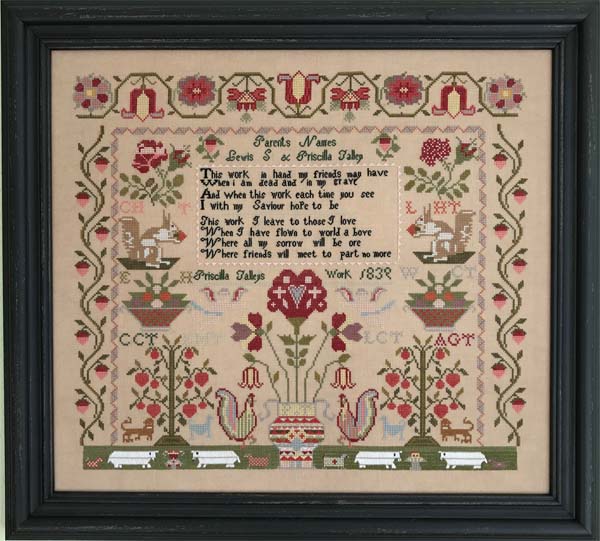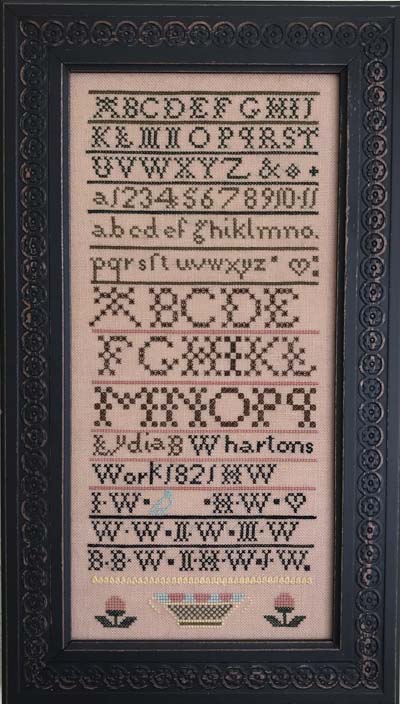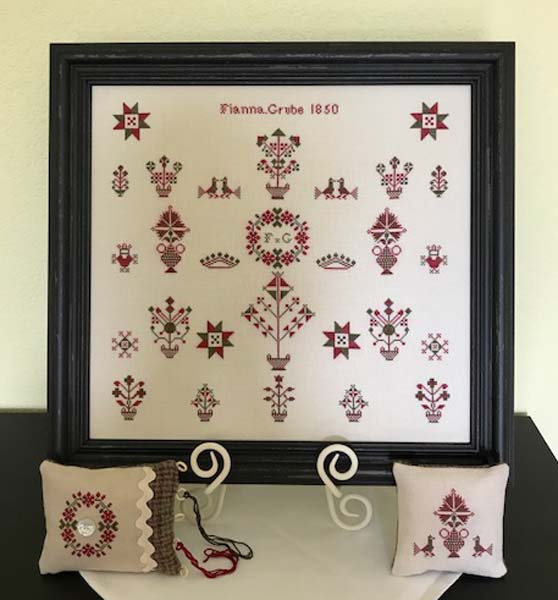 And at The Stitching Post in Catonsville, MD (see Shops for more info) there are all 4 of the crab series.  Beginning with Funky Blue Crab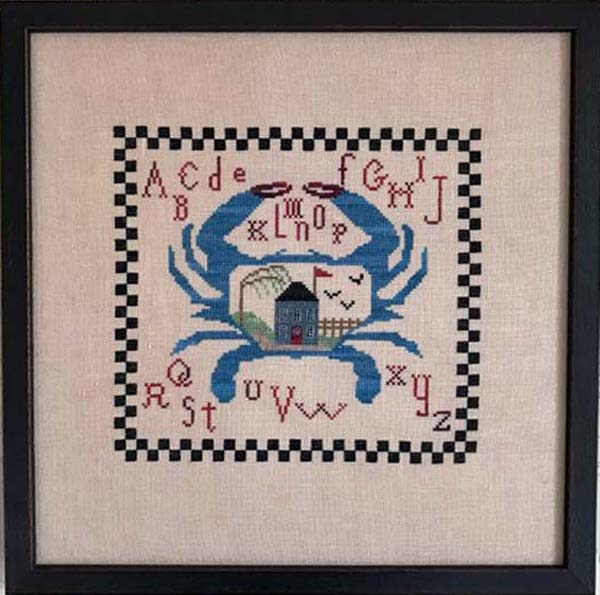 Then Happy Red Crab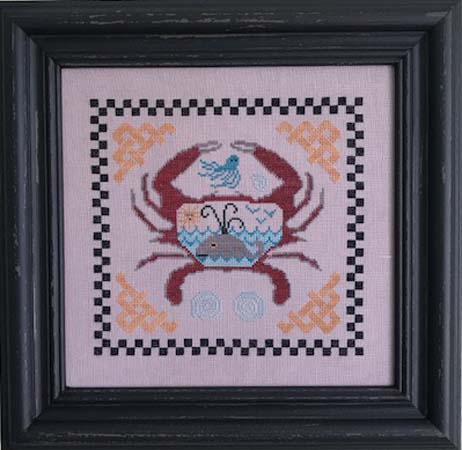 And then "Dreamin' of the Beach" Crab Number 3 in the series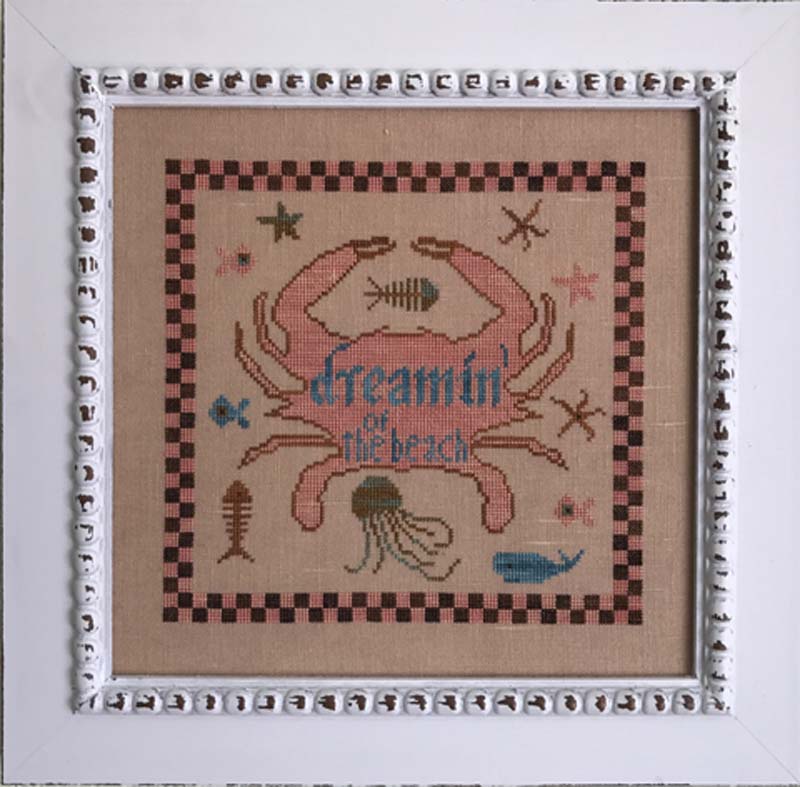 and Finally the 4th crab of the series, Clockwork Crab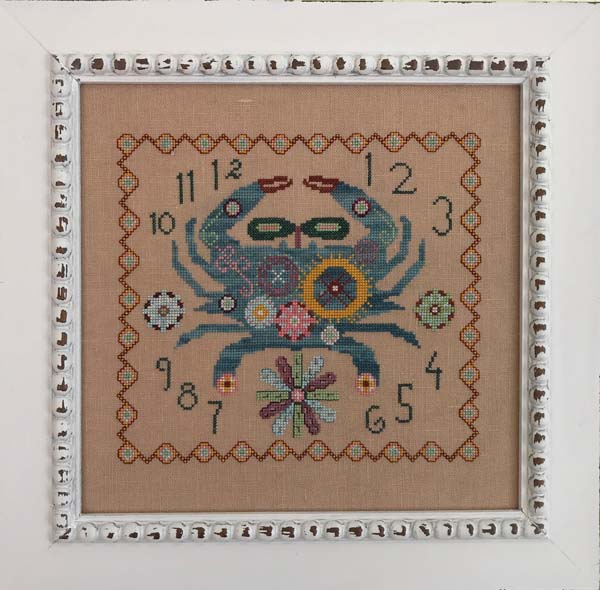 Happy stitching,
Patty
4 New Charts Coming out August 1st on the Needlework Show online!
July 20, 2017 - 1:57pm
Samplers Revisited will be participating again in the online Needlework show from August 1 to 3.  This is a wholesale show that the public can view and let their favorite shop/online shop know what they want them to order!  Check it out at www.needleworkshow.com.  Here are the 4 new charts:
Fianna's Show Towel 1850  Luckily the same owner of the original Fianna Grube 1849 Sampler found Fianna's towel at another auction.  Her red and green motifs look great worked up also as Christmas ornaments or pin cushion/floss holders.  Directions are included in the chart.
Next there is the second in the Crab Series:  Happy Red Crab (he is happy as he has a whale in his belly). Stitched in Weeks Dye Works threads.
And then there are two more Santas.  One for New York and one for Colorado.  Santa brought his skis along to visit Colorado!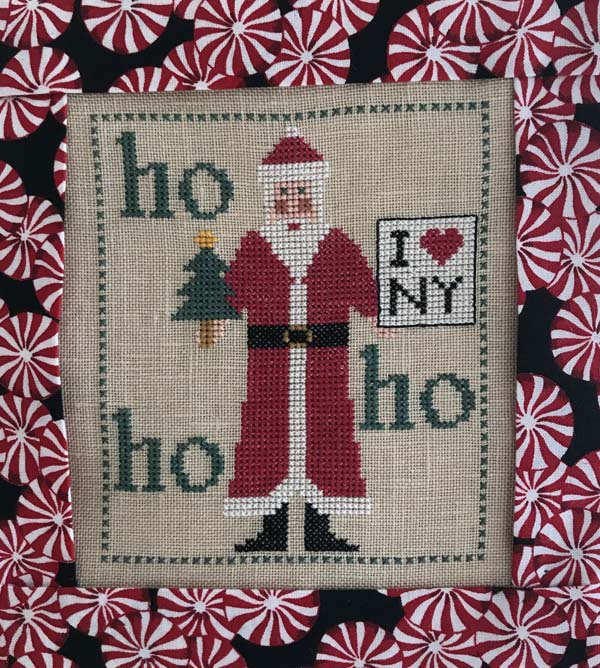 These charts will be available for your shops to order after 1 August.  If you don't see them, ask for them!
Enjoy the rest of your summer!
Online Needlework Show coming Soon!
July 20, 2017 - 1:55pm
Visit the new Samplers Revisited Models at In Stitches in Alexandria, VA!
March 16, 2017 - 7:12am
Nashville is now over for the year but you have a chance to see our New models at In Stitches in Alexandria, VA.  Stop by (see their website at www.institchesneedlework.com) for directions, store hours, and other happenings.  While you are there, perhaps you want to catch the last couple of weeks of the Woodlawn Plantation Needlework show (see here for info www.woodlawnpopeleighey.org/annualneedleworkshow/ ) and check out Dorcas Coffin and Jane Clarkson (our charts) that are entered this year in the show!
Samplers Revisited will be in Room 230 at the Nashville Needlework Market March 3 to 5
February 15, 2017 - 7:20am
Come see me in the Stitching Pretty Presents room at the Nashville Needlework Market March 3 thru 5.  There will be 16 models from Samplers Revisited with cash and carry of all the charts until they run out!  Besides all 10 of the new ornament series "Santa Visits", there will be 2 Coastal Collection pieces, 3 reproduction samplers, and the last of the Great Pumpkin series, Great Pumpkin Mennonite for your viewing pleasure.  Check out the "New" catagory under "Charts" to see all the details on these girls.
Nelley Sharp 1791 Sneaky Peak!
February 8, 2017 - 6:19am
March 3 to 5 weekend will find me in Nashville at the Needlework Market at the Embassy Suites.  I will be with Stitching Pretty Presents showing off 16 new models (all new to the show, 7 never viewed by the public).  The newest sampler is Nelley Sharp 1791.  Here is a sneaky peak of Nelley.  Stay tuned for the full picture and all the info on Nelley and my other new "girls".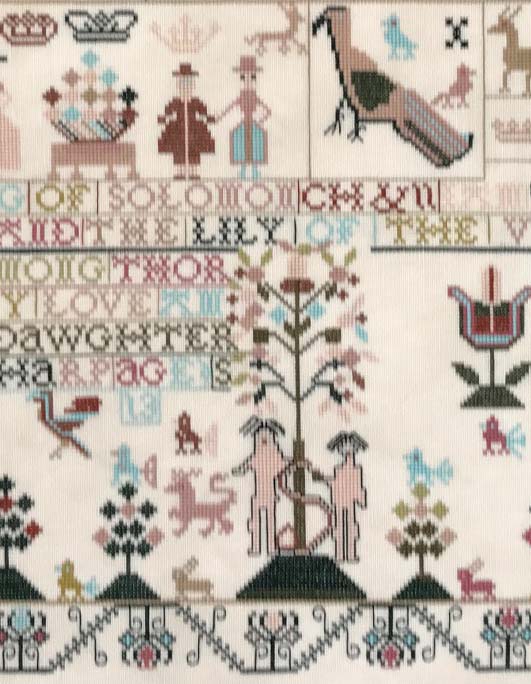 SaveSave
Keep Calm and Think of the Beach by Mary Ann Slocomb
February 8, 2017 - 6:11am
One of our local stitchers in South Bethany Beach just finished this quilted wall hanging for her son's office.  Isn't it pretty?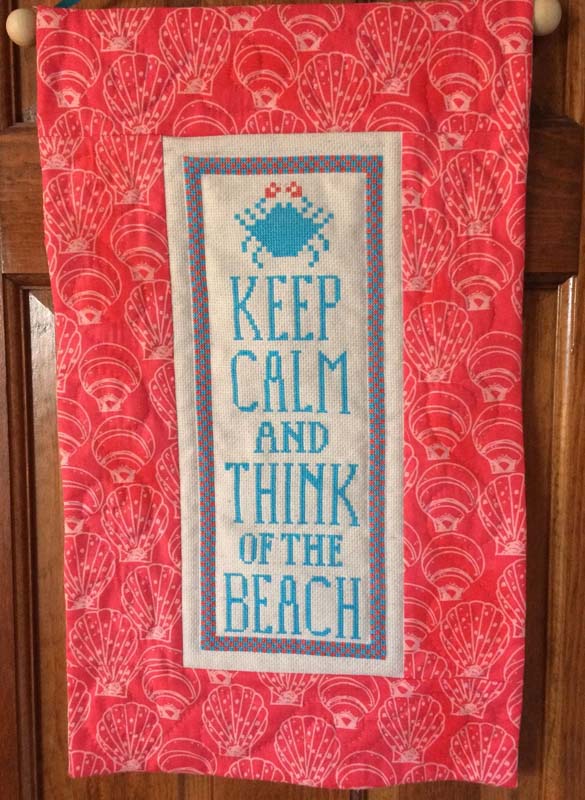 SaveSave
Visit the Online Needlework Show February 1st thru 3rd
January 28, 2017 - 4:29pm
Samplers Revisited will be participating in the Online Needlework show (www.needleworkshow.com) from February 1st thru 3rd.  Check in to see what your local needlework store can order for your stitching pleasure!  Be sure and tell them what you want before the 3rd!  A great way for those of you that don't live in the mid Atlantic States to get some of the new Santa Visits ornaments!  Next show is April 1st thru 3rd and will have a lot of new releases! Stay tuned!!!
Two New Santas Just in time for Christmas 2016!
October 19, 2016 - 8:06am
Now appearing in my four local shops along with the other 4 State Santas are Pennsylvania and New Jersey.  Please contact In Stitches in Alexandria, VA, Salty Yarns in Ocean City, MD, Sea Needles in Bethany Beach, DE or Stitching Post in Baltimore, MD to order one of these (or many or all) to stitch in time for Christmas!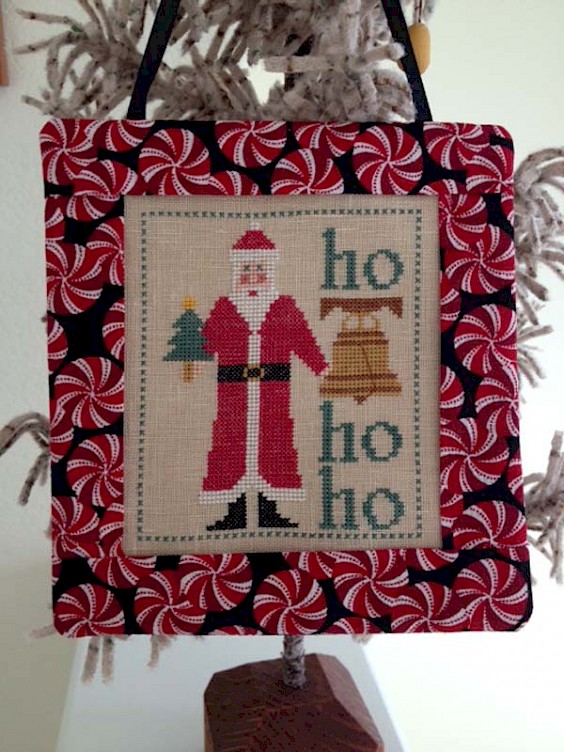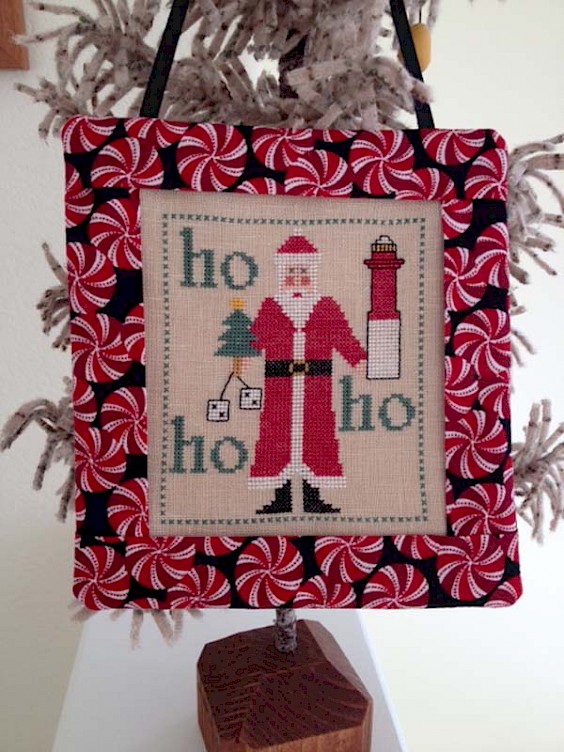 Great Pumpkin Seaside Finish
October 4, 2016 - 12:13pm
Lee Hofstetter from Longmont, CO (a quilt designer by the way) has a stunning finish of Great Pumpkin Seaside for her autumn display at home.  Lee used a piece of white 32 count linen and a mix of DMC and Gentle Art threads for her pumpkin.  Isn't it pretty?  Thanks, Lee.  We always like to see the finished product!  Happy stitching!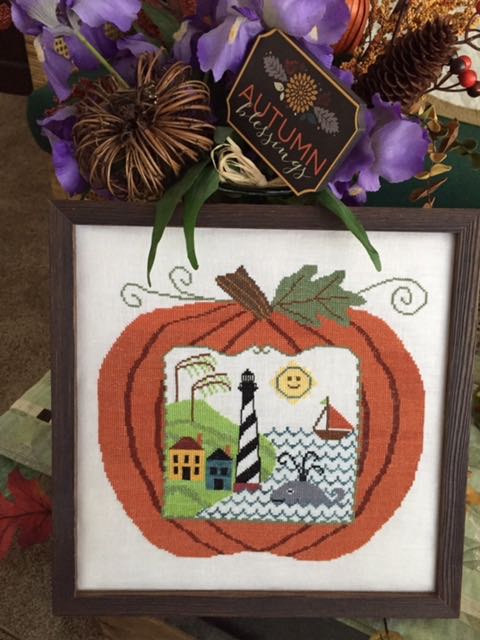 Samplers Revisited Introduces New State Christmas Ornaments!
September 19, 2016 - 9:00am
Just in time for your Christmas Stitching, we have introduced the first four in the State's collection of Christmas Ornaments.  Check them out under New Charts, Original Charts, and/or Christmas Ornaments.  A quick stitch and an easy finish is found under "Finishing Instructions".  No need to send these off to the "Finisher".  A fat quarter of fabric will do more than one,  Enjoy!
A Correction for Great Pumpkin Seaside
August 17, 2016 - 4:34pm
Ugh oh.  A dedicated stitcher has just pointed out that I failed to note what color the symbol "8" is on the back of my chart Great Pumpkin Seaside.  Symbol 8 is Tin Bucket by Gentle Art # 7067 or DMC 413.  Please add that to your charts!!!  I am going to be correcting all charts that go out from here, but I realize that there are many out there missing this symbol.  Please forgive me!
Patty Yergey
New Releases for Norden Online Show August 8th-19th
August 2, 2016 - 9:37am
Samplers Revisited is happy to announce there will be 3 more charts for your stitching pleasure available to shops from Norden Crafts Distributors at their online show starting the 8th of August and ending the 19th.  For all of you stitchers out there, tell your favorite shop what you want to see in their store after the show!  
First up is Jane McNair Ketching 1862, a very nice Scottish sampler from Edinburgh.  I just love the houses and animals on the bottom of this sampler!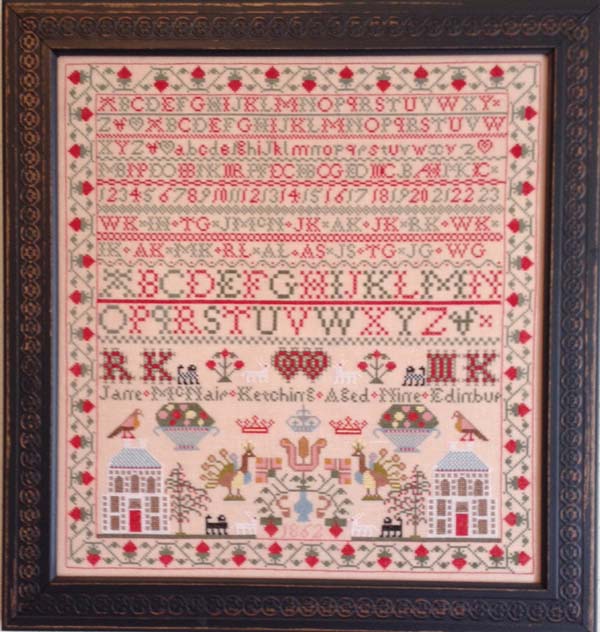 Next is Mary Applegate 1848, a real Jersey girl from Allentown, New Jersey.  The colors are very different on this one, quite vibrant and very pretty.  Love this house too.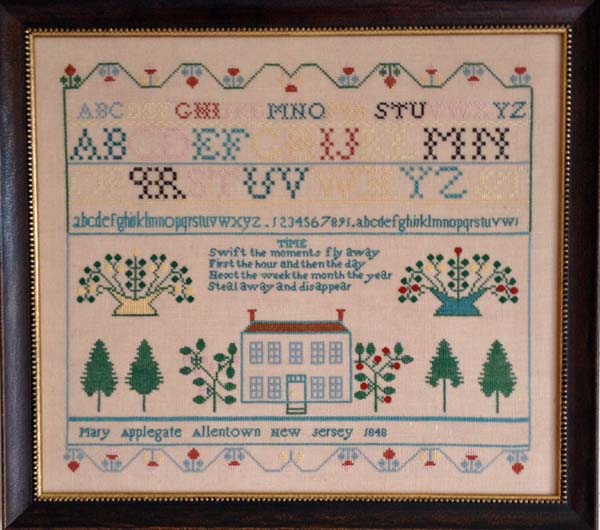 Last is the 4th and last of the Great Pumpkin series, Great Pumpkin Mennonite.  Have fun just stitching this pumpkin or choose all 4 for a nice grouping!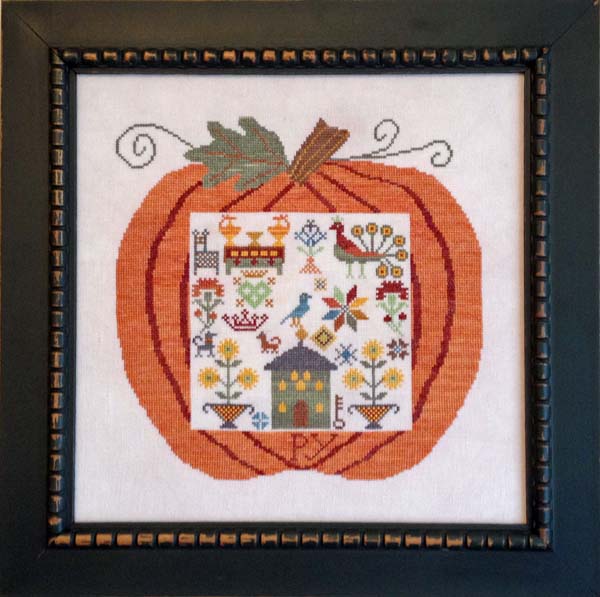 Look for all the particulars of each of these charts on the "new" tab under "charts"
Happy stitching,
Patty
SaveSave
Four new charts coming in March!
February 9, 2016 - 10:19am
Four new charts are coming out the first week of March at the Nashville Needlework Show. The first one is Hester Kingham 1832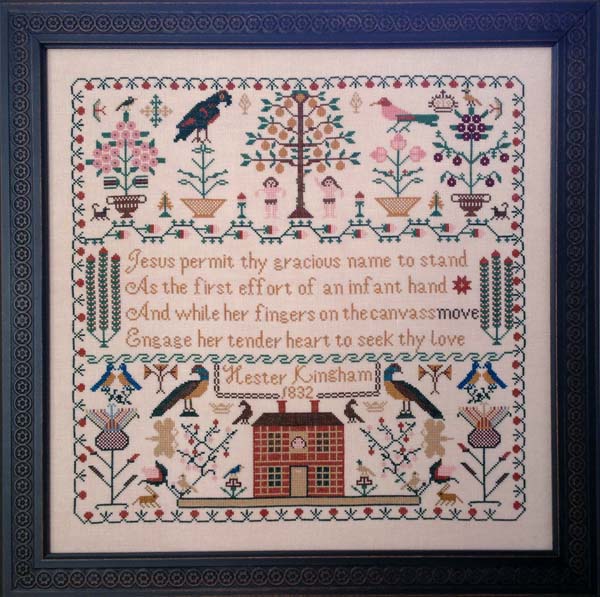 The next is the 3rd in the Great Pumpkin Series 
Great Pumpkin Seaside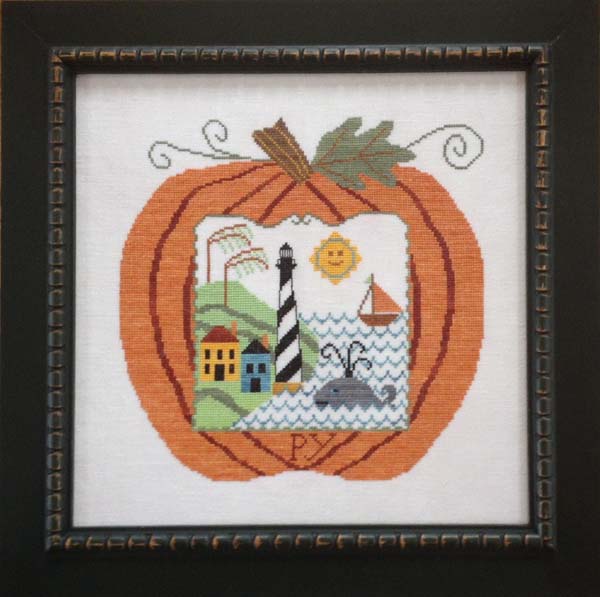 The next two charts are from the Coastal Collection
Life's A Beach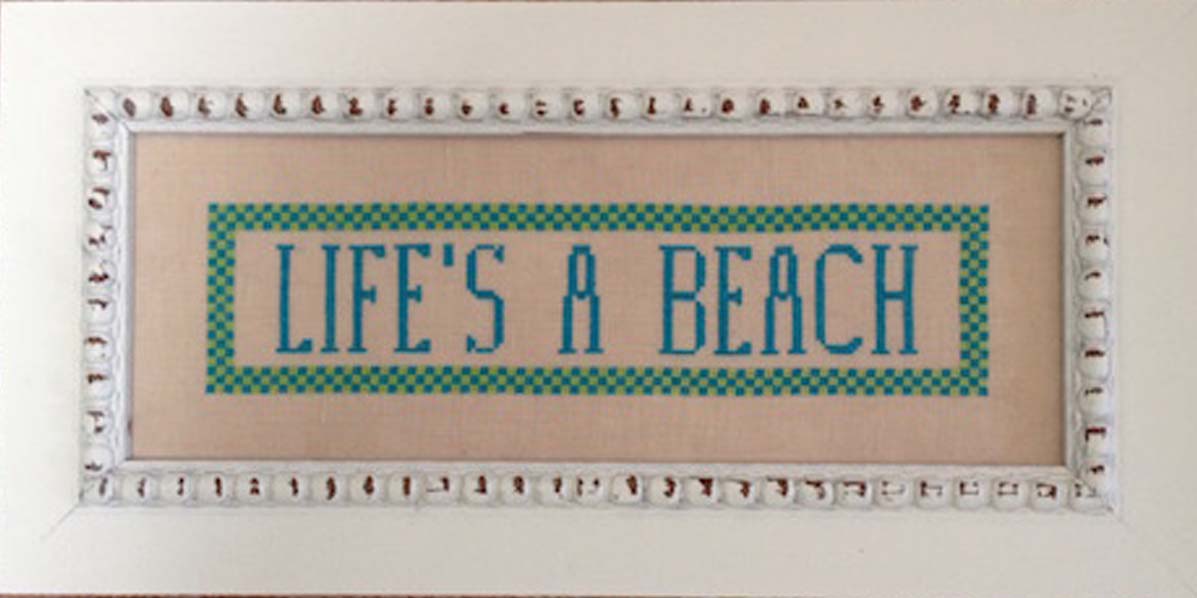 and the last is
The Beach Fixes Everything

Go the New section on this webite for more information on each new chart and be sure to let your favorite shop know that you want to order a copy if you like what you see!
Happy stitching to all,
Patty
Norden Crafts Online Show now open!
August 10, 2015 - 10:05am
Check out Samplers Revisited 3 new designs for the Norden Crafts Online show and place your orders (or tell you favorite needlework store to order one for you)!  Please let me know how you like my new girls!
Great Pumpkin Sampler, Great Pumpkin Quaker, and Elizabeth Young 1829 (a reproduction sampler from the Mid-Atlantic States).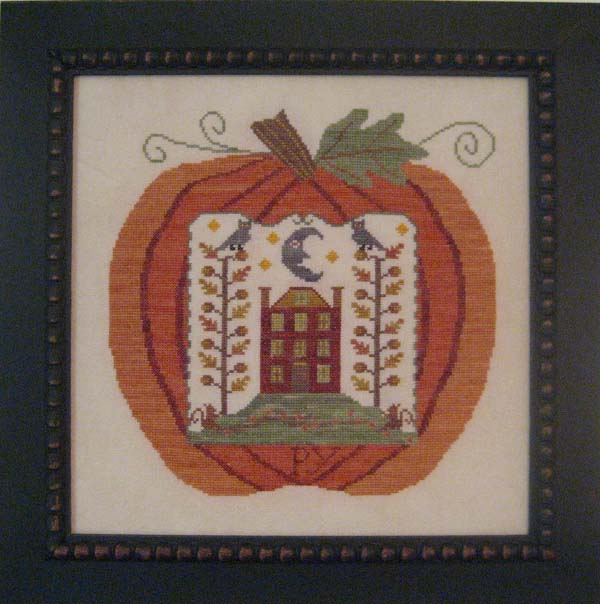 Norden Crafts Online Needlework Show coming August 10th-19th, 2015!
July 19, 2015 - 9:24am
Samplers Revisited  will be bringing out 3 new charts for this show.  Be sure and check it out and let your favorite Bricks and Mortar or Online Retailer know that you want to buy these charts!  One reproduction sampler (Elizabeth Young 1829) and two surprise charts for the Fall!  Check this website after the 10th for pictures!
Pam Tanner Finished Isabella Gray!
July 19, 2015 - 9:19am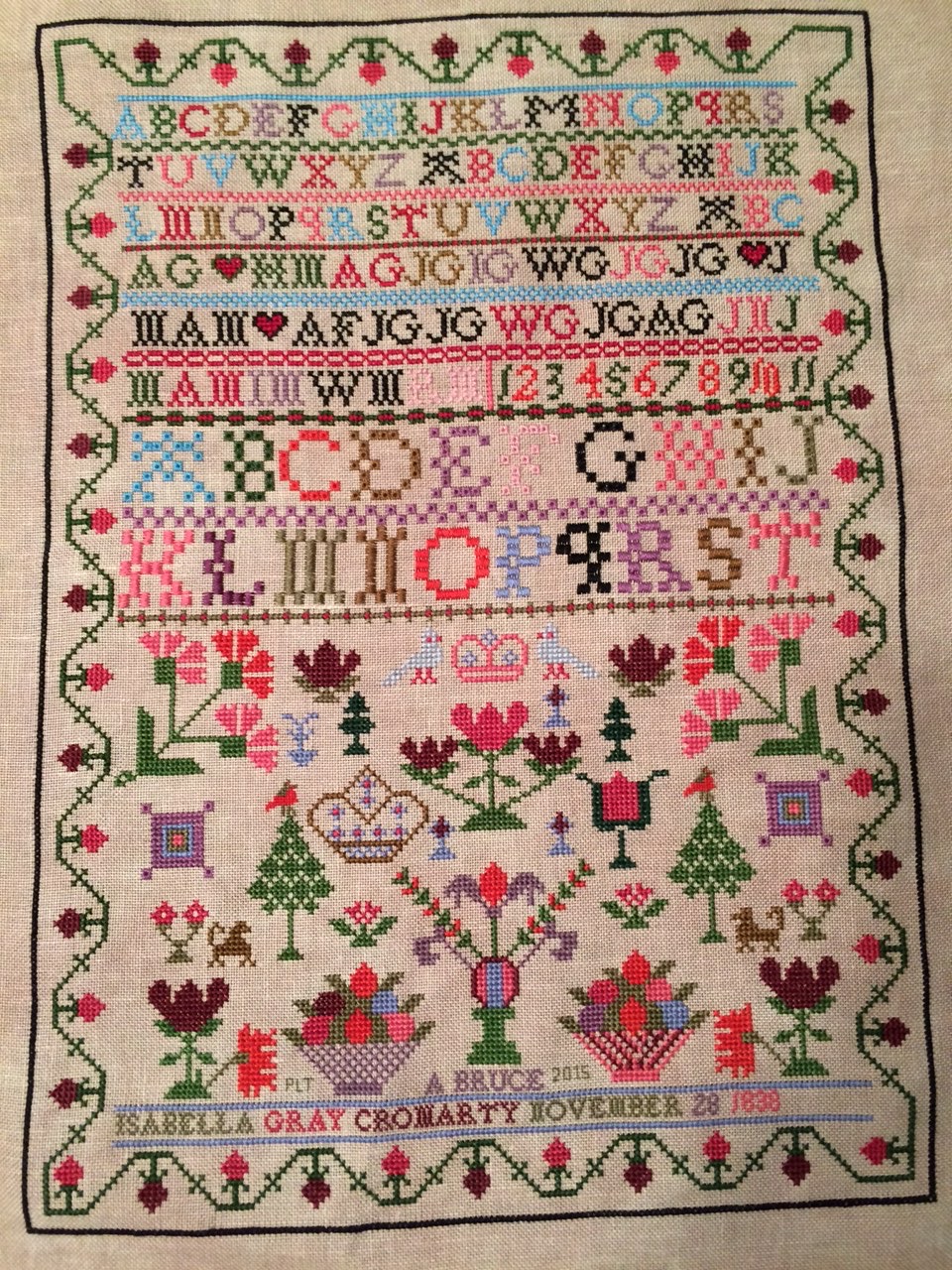 Pam Tanner from Manassas, VA finished Isabella Gray earlier this month!  Isn't she pretty?
Samplers Revisited Trunk Show at Valley Needleworks in Middletown, VA
May 11, 2015 - 11:42am
Come to Valley Needleworks in Middletown Virginia between May 12 and June 6 and see a wonderful trunk show of Samplers Revisited models.  Jennifer the owner is offering 15% off the charts during that time and is having a door prize that will win you a free chart of your choice.  She will kit it up for you at 20% off if you choose.  I will be there for a "Meet and Greet" from 10 until 2 that last Saturday June the 6th.  I will be signing charts and talking stitching.  Hope to see a lot of your there.  Happy Stitching!  Keep checking out my site, there are going to be 3 new charts coming in August!
Check out Valley Needleworks website at www.valleyneedleworks.com.
Maryland Flag Crab Pillow by Sally Rutka of Salty Yarns, Ocean City, MD
April 20, 2015 - 9:50am
Spent a pleasant time chatting with Sara Rutka, co owner of Salty Yarns Needlework Shop in Ocean City MD on Saturday.  The weather was mild and warm and the boardwalk was busy.  There were sun worshippers out on the sandy beach, what a beautiful day.  While I was there I photographed Sally Rutka's (Mom of Sara and co owner of Salty Yarns) rendition of my Maryland Flag Crab Pillow.  Sally blew up the pattern by stitching on 18 count fabric and using the DMC colors.  It is beautiful, check out the picture below!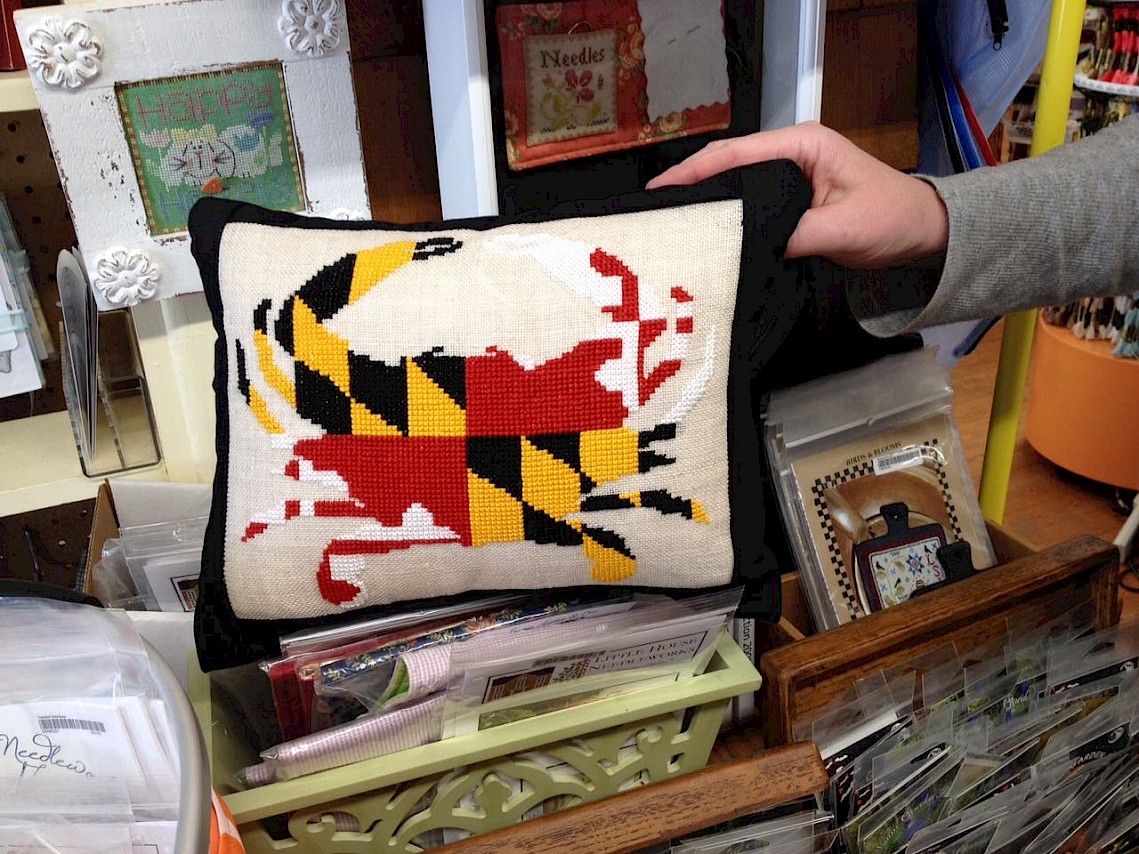 Blessed Are We Who Live By the Sea
April 6, 2015 - 7:42am

Check out Bobbie Smith's rendering of Blessed Are We!  Bobbie chose coral and turquoise to stitch her sampler.  She had it framed by Glen at Sea Needles in Bethany Beach.  This looks awesome hanging over her front door on an aqua wall.  Congratulations Bobbie on a great finish!
Nashville Releases for February 2015
February 5, 2015 - 4:19pm
Samplers Revisited  is happy to announce that there will be 7 new charts debuted at Nashville Market at the end of February.  3 reproduction samplers and 4 Coastal Collection charts.  You may view them all with details in  the "New Charts" section of the website.  Each reproduction chart brings something a little different to the mix.  Ann Smith 1809 is a Quaker sampler from Westtown school in Chester County, PA.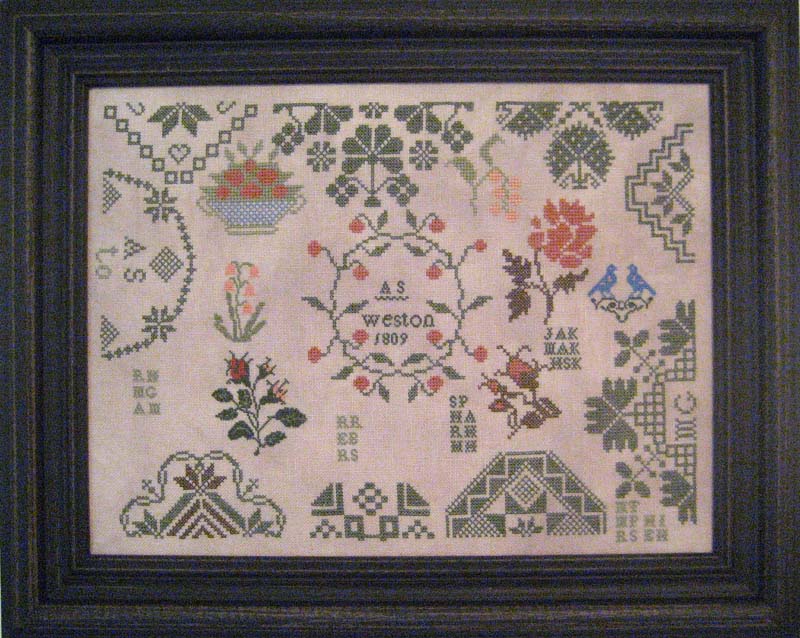 Hay Cairns 1840 is from Weymss, Scotland on the East coast off the North Sea.  I love her articulated capital letters.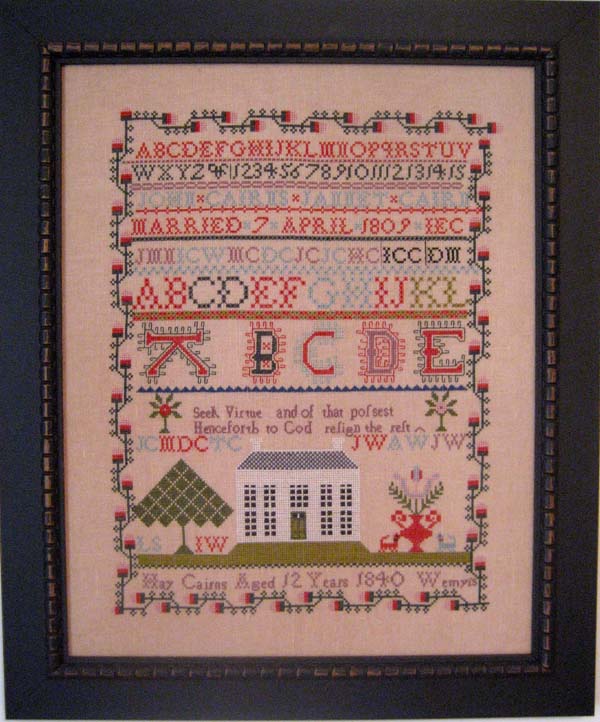 The last sampler is Sarah Green 1849.  An interesting Adam and Eve sampler stitched by an 8 year old.  We think she lived in northern England near the Scottish border, but with a name as plain as that we are not sure!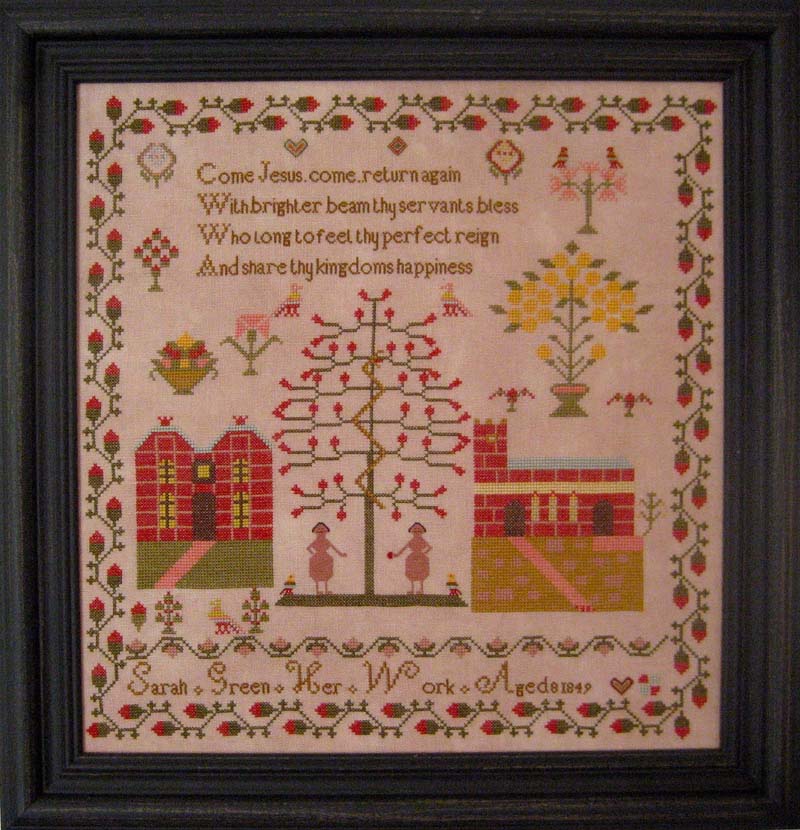 Next there are 4 charts in the Coastal Collection for quicker stitching.
Blessed Are We Who Live By The Sea looks great hanging over your front door, done in your two favorite colors:

Then there is a great British motto with a little tweak: Keep Calm and Think of the Beach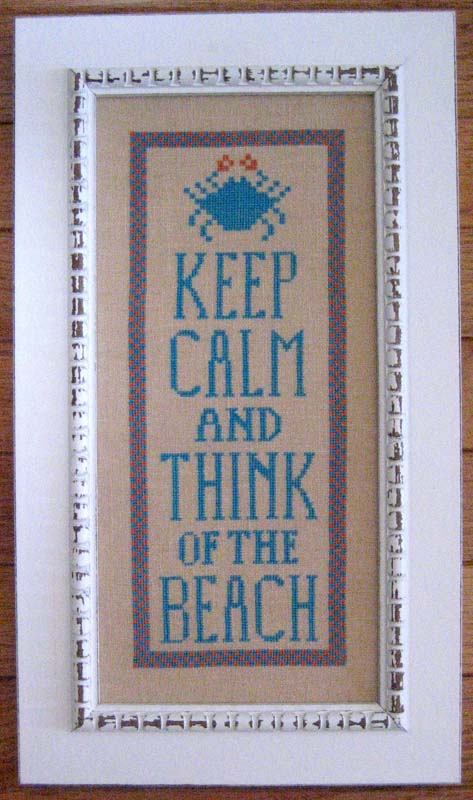 Then there is another chart you can choose to stitch in your two favorite colors:  Life is Better at the Beach

and last for Marylanders, our favorite Crustaean the blue crab and our flag decked out in Maryland colors:  Maryland Flag Crab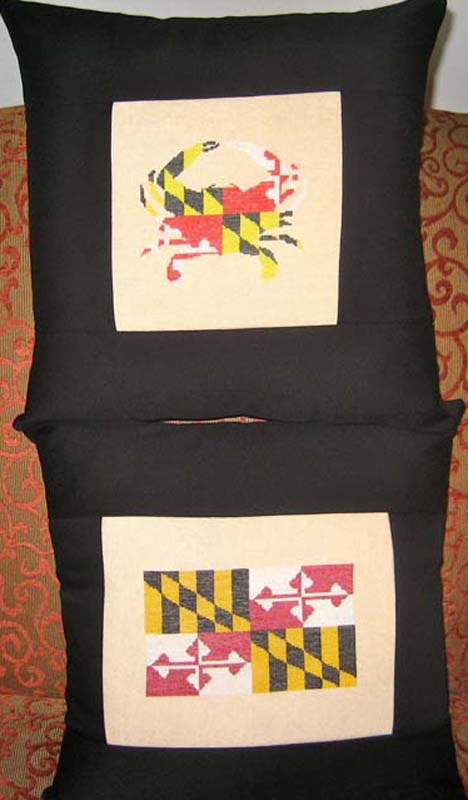 I hope you enjoy all the new charts.  Please email any questions you might have and look for these in your favorite stores in early March after Market.
Happy stitching,
Patty
Needleart 2014 at Montpelier Mansion
November 6, 2014 - 5:59am
Tomorrow November 1st marks the opening of this yearly month long event.  Hours at the mansion are 11 to 4 daily (closed on Wednesdays).  This is a great show this year with lots of lovely entries, please stop by and check it out.  Samplers Revisited won a blue ribbon on the sampler AR 1829!  Montpelier mansion is located in Laurel Maryland just off Route 197.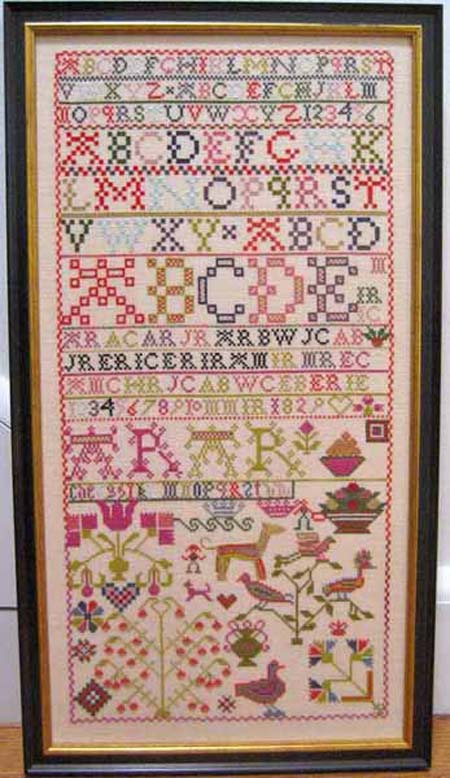 Two new original charts from Samplers Revisited coming out this month
November 6, 2014 - 5:58am
Check out the two new original charts in the "New" section.  Samplers Revisited was in a coastal mood this summer and has initiated a new line of coastal sayings.  While working on that I couldn't resist sharing with you the new craze of our beloved Maryland Crustacean the Blue Crab in Maryland Flag colors and design.  Both charts come in the chart pack.  Both of these new charts could lend themselves to being needlepointed too.  Both charts are done in full cross stitches.  Check with your local shop or online store for your copies.
Delmarva Needle Art Show and Competition in Snow Hill Maryland
August 28, 2014 - 4:44am
Before you take off for Laurel MD in November, come over the the Eastern Shore of Maryland to the quaint town of Snow Hill and visit the Julia Purnell Museum from Tuesday September 2 thru October 31.  Check out the link below and find out about the museum.  www.purnellmuseum.com/index.php     This popular exhibit of needle art by retional artists includes quilts, embroidery, knitting, crochet and more.  Samplers Revisited has entered a piece too!  Ribbons are awarded by People's choice.  Come out and vote for your favorite pieces in each category.  
NeedleArt 2014 at Montpelier Mansion
August 28, 2014 - 4:53am
Come see this exhibition from November 1 thru November 30 (closed Wednesdays only) of local needlework.  The special category this year is "In Honor of"  A special rememberence for a friend, family member, historic figure, hero, etc.  If you would like to enter your own needlework, entries will be accepted in the mansion October 26th and 27th.  Please go to the website http://www.stitchingpretty.com and click on events for all the details.  
In conjunction with the NeedleArt 2014 there is also going to be a stitcher's weekend at the Holiday Inn Express in Laurel MD the weekend of November 14, 15 and 16.  Check out the site also at http://www.stitchingpretty.com and click on events for all the information about this fun weekend.  
You will find forms for both these activities at the above website.   Samplers Revisited will be at the stitcher's weekend and all Samplers Revisited charts will be for sale to the public at the mansion.  Come out and meet me (Patty Yergey) in Laurel, Maryland in November!
New Releases for St Charles 2014
August 11, 2014 - 8:28am
Samplers Revisited is happy to announce that there will be two new samplers plus the model for Seaside Blessings at St Charles this weekend in the Stitching Pretty Presents room.  Please come by and see all the new girls!  Here are the sneak peaks of the two new samplers.  For more details check out the New chart section in this website.  Happy Stitching!!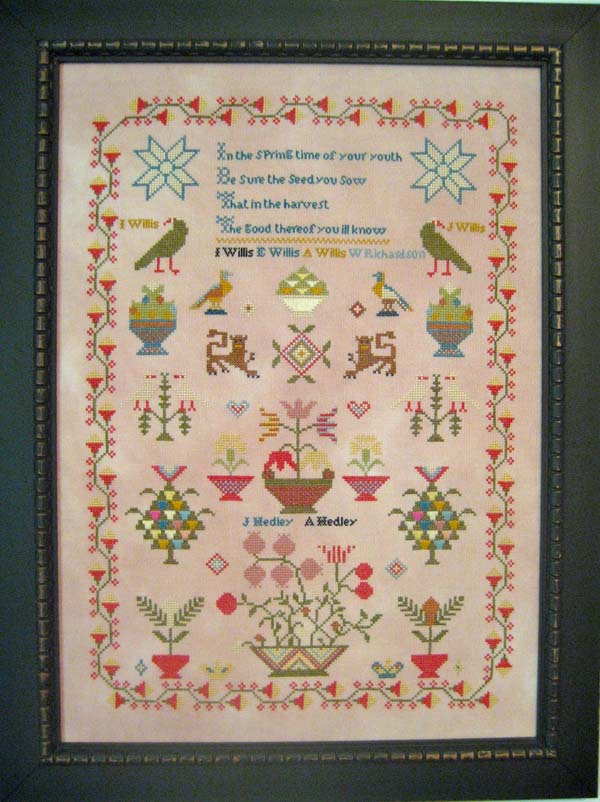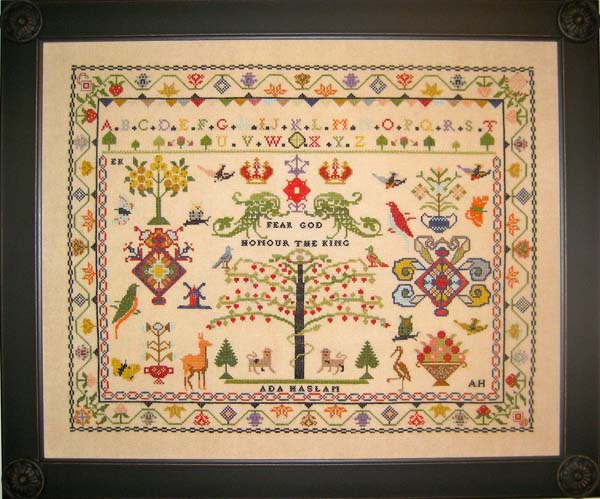 Sea Needles 25th Anniversary Sale
June 12, 2014 - 12:11pm
Everyones loves a sale and this is a sale of Samplers Revisited charts on Monday June 30th.  Come meet me (Patty Yergey) at Sea Needles in Bethany Beach Delaware at 780 Garfield Parkway (route 26) near the Wawa from 1 pm to 3 pm.  All of my charts will be 20% off for those two hours.  If you can't make it to the beach, phone 302-539-0574 and order over the phone.  Remember there is no tax in Delaware so 20% off is a good deal even if you have to pay a little shipping!  I will have all my beachy models there as well as a few favorite reproduction Samplers.  Hope to see you later this month!
Just in time for Summer, a Sea themed Sampler!
May 15, 2014 - 9:19am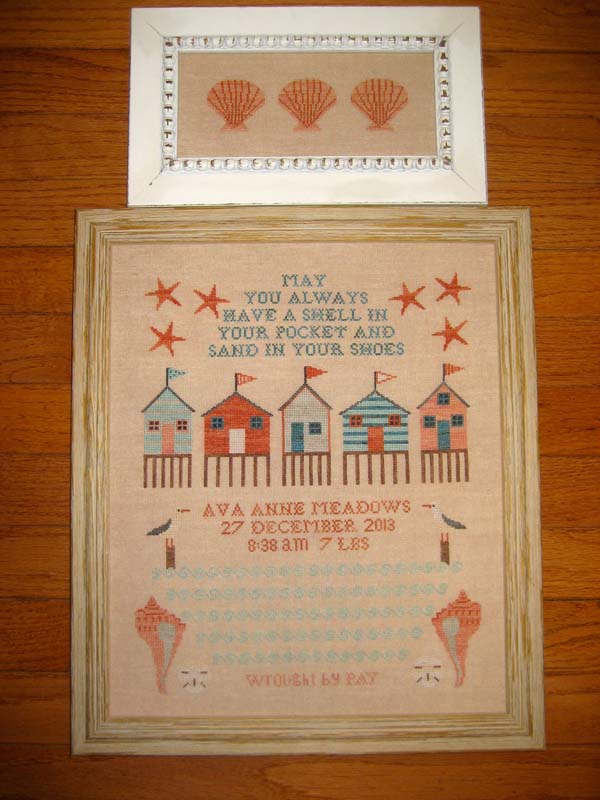 Seaside Blessings is now ready to be shipped!  This is another original from Samplers Revisited celebrating the Sea.  The model shown was stitched to be a birth sampler but there is a "bonus" chart on top that fits perfectly in the space that the personalization goes in, so you can make this just an everyday sampler or stitch it for a new addition to your family.  This bright and cheery sampler is stitched all in cross stitch "over 2" with overdyed cotton threads.  Please contact your local retailer to purchase this chart.  
Two new reproduction samplers coming out 14 February in Nashville
February 3, 2014 - 4:36pm
Samplers Revisited is pleased to announce that there are two new reproduction samplers that will be released at the Nashville Trade Show on 14 February.  For those of you lucky enough to attend, the models and charts will be in the Stitching Pretty Presents Suite 226.  Please stop by and check them out.  For those of you not able to attend the show, please check them out on this website.  Just look under "NEW"  under the "CHARTS" section.
Jane Clarkson 1856 is a large English sampler with a lovely brick house topped by a lacy white basket.  She is stitched all in cross stitch.  
Judith Le Lacheur 1836 is a reproduction sampler from the Channel Islands between England and France.  She is stitched in cross stitch and 4 sided stitch.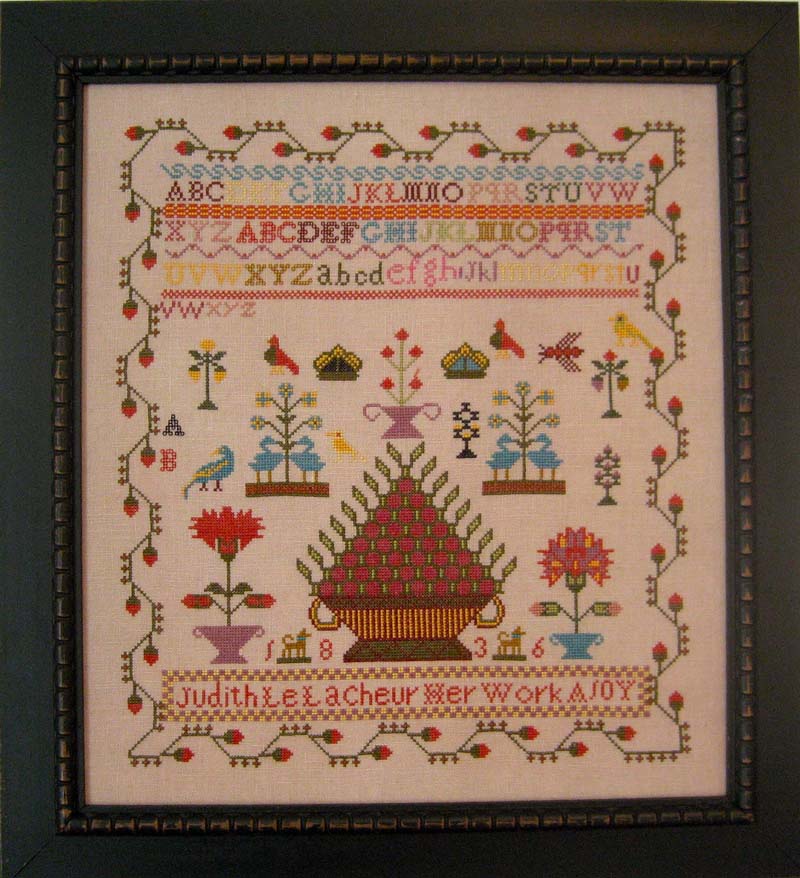 Samplers Revisited is happy to announce that Needlepoint Inc Silks now has canvases adapted from their charts!
January 29, 2014 - 11:43am
We are happy to announce that Needlepoint Inc Silks has introduced a line of lovely handpainted canvases for you to needlepoint a Samplers Revisited sampler.  This will enable those of you that love samplers but don't like reading charts to have a reproduction sampler to stitch too!  You may see the designs here http://needlepointinc.com/samplers-revisited/  Please contact Needlepoint Inc Silks directly to purchase these canvases.  
Latest News
January 27, 2014 - 12:14pm
The Samplers Revisited site is back.
---